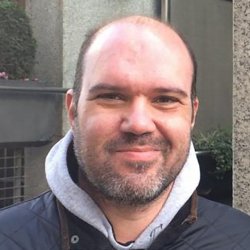 Efthymios Bliatis
"The contribution of academic staff made the whole programme an interactive experience which went well beyond textbooks and marks."
"I have always been fascinated by the concept of enabling people to communicate with each other without the boundaries and limitations of distance or location, and realising this concept through technology motivates me in my everyday work.
Working in the role of Electronics and Communications Engineer as a Captain in the Hellenic Air Force before coming to the University of Surrey, I knew the importance of providing the best possible infrastructure to support our mission.
In order to further develop my expertise, and gain knowledge of today's software-defined data centres and networks, I decided to undertake a Masters programme. I chose Surrey because it was ranked in top place for electrical and electronic engineering not just among UK universities but across the whole of Europe too.
During my MSc I found that the hands-on part of the course was the most demanding and, at the same time, the most interesting part – seeing immediate results helps you to understand all the different topics you learn in theory. For this reason the dissertation was the process I enjoyed the most, both for its practical component and for the direct interaction it gave me with academics.
One thing that I can't stress enough is how willing academic staff at Surrey are to help with any issue that arises. Their contribution made the whole programme an interactive experience which went well beyond textbooks and marks.
Since completing my MSc I've been appointed as a specialist in a multimillion Euro modernisation programme of the Hellenic Ministry of Defence's communications infrastructure. This has enabled me to apply the principles I was taught at the University of Surrey. I'd recommend the MSc in Communications Networks and Software without hesitation: in my view it's the most advanced programme in networking available in Europe.
Discover more about our electrical and electronic engineering programmes, including our MSc Communications Networks and Software.