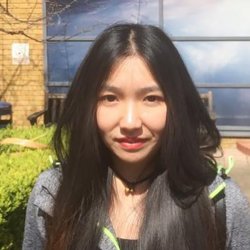 Elaine Zhu
"For me, Surrey was the best choice based on quality of education, reputation, environment and location."
Course
Radiation and Environmental Protection MSc
"I was attracted to the field of radiation and environmental protection because I enjoy learning about new ideas that could improve people's lives, and can see huge potential in this area.
Having studied for a BSc in Radiation Protection and Environmental Engineering at Southwest University of Science and Technology in China, I knew that I really liked the subject. However the more I learned, the more I realised that my knowledge was not adequate for finding a good job in this field. That's why I decided to continue my studies with an MSc course.
For me, Surrey was the best choice based on quality of education, reputation, environment and location.
I definitely feel that I made the right decision. Learning about this subject at Masters level has really shown me how science can change the world, and how amazing nuclear power is!
One of the best aspects of the programme is the opportunity to do experiments, which obviously enable you to see what happens in practice and are also a good opportunity to work with others. The laboratory facilities within the Department of Physics are good, with safety a high priority, and the academic staff are all very friendly and helpful.
My course is made up of a small, close-knit group who all really enjoy the programme. During my time here I've made a bunch of new friends from different countries, backgrounds and culture. As an international student coming from China, I've also found the Surrey offered great support as I settled in: there were several talks about campus and social life, the university rules and the Surrey Sports Park within the first week of the new semester.
My advice to anyone considering enrolling on my course would be: don't hesitate, just do it!"
Discover more about our physics programmes, including our MSc Radiation and Environmental Protection.