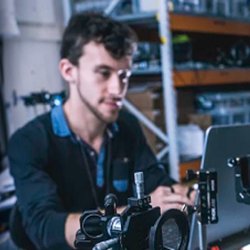 Elliot Bryce
"I'm excited my final year project will take place at Surrey's Advanced Technology Institute, which has state-of-the-art equipment used in cutting-edge research."
Course
Physics with Quantum Technologies
Placement company
Central Laser Facility, Rutherford Appleton Laboratory
"When looking around universities as a prospective student, the feature that made Surrey stand out to me was the campus lifestyle. Surrey is a very pleasant place to be with its green spaces and close community. On the other hand, Guildford has easy access to London and Southampton, which has made it easy to keep things interesting during my time here.
The course I chose – BSc Physics with Quantum Technologies – has given me access to an exciting up-and-coming field.
Quantum computation is set to revolutionise a variety of areas, from business to biology, and the modules offered at Surrey put you at the centre of this dynamic area.
The staff in the Department of Physics have a passion for their field and are active researchers in parallel to their teaching. It's great to talk to them about their recent work because they have an infectious enthusiasm which brings the subject to life. In fact, speaking to lecturers about why they chose their respective research fields has massively influenced my decision to specialise in quantum computing.
The undergraduate laboratories at Surrey are well stocked for a wide range of experiments. Now in the last year of my degree, I'm excited that my final year project will take place at Surrey's Advanced Technology Institute, which has state-of-the-art equipment used in cutting edge research.
One of the main reasons I applied to Surrey was its high graduate recruitment rate, and I believe that the reason for this is the support the University gives its students to find the right placements. Taking a Professional Training placement year makes your CV stand out from the rest and gives you a taster of what graduate life has to offer
I was lucky enough to spend my year in industry working at the Central Laser Facility at the Rutherford Appleton Laboratory, part of the government's Science & Technology Facilities Council.
My role was Target Area Scientist, which meant that I helped visiting researchers to conduct experiments in high power laser physics. I was privy to many novel ideas, and was even given the project lead for one concept during an experiment. This experience has enabled me to become an expert in specialist areas – something I can take with me as I seek graduate opportunities.
My placement gave me the opportunity to network with potential future employers, and to work alongside PhD students, giving me an insight into what postgraduate study involves. I now hope to undertake a PhD in quantum computing after my degree, possibly outside the UK, in order to extend my experience."
Why not explore our programmes in Physics, including our BSc or MPhys degrees in Physics with Quantum Technologies?