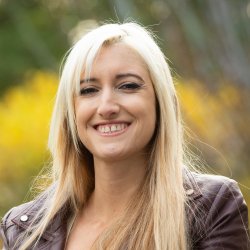 Eva Bestelink
"I think the University and staff have done an impressive job of moving swiftly to online teaching so that students are affected as little as possible."
How has the Covid-19 pandemic affected your PhD?
I was with a group of four PhD students in Italy during the early stages of the outbreak there. We were travelling up to Bolzano to give a seminar and discuss future collaborations when I saw the news of the impending lockdown in the north. We made the decision to head home and, after visiting my former home in South Africa, I returned to the UK.
How have you coped with the changes this has brought to your studies?
My research focuses on low power nanoelectronic devices, so I immediately set out to measure as many devices as possible in preparation for an inevitable lockdown. I ensured that I had sufficient data to write several papers and keep productive for a few months. Currently, this is going very well. I'm also getting more sleep since I don't have to wake up at my previous self-imposed schedule!
"In addition to my PhD, I usually assist with lab demonstrations for undergraduates so a colleague and I have designed a simulation-based project to replace the practical component of their lab project, with remote demo sessions."
What has communication been like with the University, your Department and your supervisor?
Good. My supervisor and our research team communicated regularly via Slack long before the pandemic, and we continue to do so.
What's helped you feel part of the Surrey community despite not being on campus?
Well, there's no way to replace human interaction so this has been difficult: the Surrey environment is unique and enjoyable. However I think the University and staff have done an impressive job of moving swiftly to online teaching so that students are affected as little as possible.
Surrey is currently planning on providing a hybrid teaching approach and so I'm looking forward to demonstrating undergraduate labs again. First year is such an amazing part of the University experience and I have no doubt the wonderful vibe on campus will return, even if it is a little more distant!
Find out more about online and hybrid learning at Surrey, plus other information for prospective students.
Discover our courses in electrical and electronic engineering, including our Advanced Technology Institute PhD.