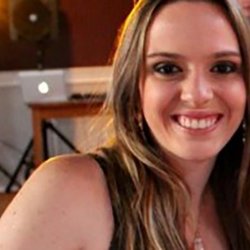 Fernanda Vanoni Matta
"During my time at Surrey I have learnt a lot working with different cultures. I have also improved my English skills and developed my critical thinking."
"After spending a year at the University of Surrey as part of an exchange programme in 2013, I returned to my country to finish my bachelor course in chemistry at Universidade de Sao Paulo (USP). I was seriously committed to continuing my studies abroad and was confident that I wanted to bring this experience to my professional life.
The University of Surrey had exceeded my expectations previously and is ranked as one of the best universities in UK, so I decided to come back for my PhD.
It was also a bonus that it is so close to London, where I can attend interesting talks, seminars and training courses.
In my field, Surrey was always leading research and innovation, and its academics provide the highest standard of education. I had already had the pleasure to work with Professor Neil, who was my academic supervisor for my summer placement in 2013, about 'Selenium in Brazil Nuts'. As a result of my work, I was awarded the prize-winning poster at the Science without Borders exhibition. The Department of Chemistry has several important prizes such as the Queen's Anniversary Prize for water research.
When I decided for a PhD as the next step for my career, there wasn't any doubt which University to go. My supervisor, my lab research and a wish to be part of the team made me want to come back to the awarded University of the Year.
"Surrey has given me the tools for my personal and professional development."
Researcher Development Programme (RDP) workshops are very useful, not only for my PhD but also to evaluate my professional skills, and the PGR Conference is a great opportunity to network and learn what your peers are researching.
My exchange programme in 2013 and my PhD now were both part of "Science without Borders - SwB" (Ciencia sem Fronteiras). Both of these opportunities were only possible through this scholarship.
Keeping in mind that Brazil is historically a new country but growing fast, it has been mandatory to increase the educational level of our professionals. A major initiative towards this is the government program Science without Borders. The purpose of this exchange programme is to bring to Brazil innovative knowledge/experience and produce young professionals with an ever increasing knowledge of different subject areas that will meet the future needs of Brazil as a major research country in South America. 
The best part of my return to Surrey has been that I feel like I have come home. I am working with same colleagues, meeting up with old friends and making new ones.
I would strongly recommend University of Surrey to anyone who wants a great experience; both academic and personal."
Discover our programmes in chemistry, including our PhD Chemistry.