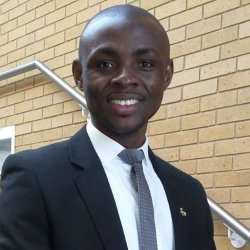 Frederick Dayour
"Surrey endears itself to multi-cultures and is home to all."
Course
Hospitality, Tourism, Transport and Events PhD
"My name is Frederick Dayour, a Ghanaian, currently pursuing my PhD research in tourism at the University of Surrey, UK. I had both my Bachelor's and Master degrees in 2009 and 2012 respectively – in the field of tourism at the University of Cape Coast, Ghana. I have a great passion for academe and enthusiastic about achieving my vision as a world class scholar in tourism, pushing the limits of innovative scholarship and promoting impactful teaching in higher education. Tourism as an academic discipline is a field that greatly interests me and I have a desire to teach and research in this field throughout my career. My research interests are circumscribed around but not limited to backpacking, tourism and ICTs, and tourism and terrorism.
My PhD research is focussed on the kinds of risks backpackers perceive towards the use of smartphones in Ghana and what risk relievers they evolve to deal with the risk perceived. Generally, there is a current literature that brings to the fore that backpackers have become 'hypermobile' in nature and that the mobile has become an indispensable travel companion – reorienting their sociality, ideologies and networking behaviours. However, such devices as mobile phones, particularly, the smartphone emits various risk concerns that affect consumer decision marking – and make others cynical and concerned about privacy, security and even physical risk among others. Thus, this study is exploring the dimensions of risk that matter to this unique cohort of travellers and what they do to contain the risk perceived – with the hope of widening the understanding of perceived risk towards ICTs especially within the context of a destination.
The inspiration for this work was drawn from my master's thesis which focussed on backpackers' motivations for travelling to Ghana. 
Choosing Surrey for my PhD was a clear choice. The University of Surrey is indubitably a world-class university and one of the top 10 universities in the UK according to league tables. It is number one when it comes to hospitality, events and tourism research and teaching in the UK (Guardian University Guide 2018). Notably, the University's feat in the area of hospitality, events and tourism is occasioned by the quality of research produced, outstanding range of academics and cutting-edge learning facilities available to students. The range of scholarship opportunities available to new PhD students are fantastic, and I am a proud beneficiary of one of these.The university is very well resourced in terms of the human resource capacity and infrastructure that support teaching and learning.
Surrey endears itself to multi-cultures and is home to all.
"The School of Hospitality and Tourism Management is, incontrovertibly, the number centre of excellence for tourism and hospitality training and research in the UK and beyond."
The school has a very experienced team of academics who are adept in varied fields, well-published, and passionate about their work – always positioned to help their students achieve their dreams. The school has a very active research environment through its weekly seminars and various workshops and programmes designed to train and develop world class researchers who can stand the test of time.
Focussed on research, the school offers plenty of scholarships every year to deserving students to pursue research degrees of which I am a beneficiary.
My experience of doing a PhD has been challenging yet enlightening due to the broad range of resources that are available to help me discover my academic potential and become competitive after the programme. I am grateful for the research support services offered to PhD students, such as the Research Development Programme (RDP). This programme has contributed amazingly to my research experience, especially in my first year, and has facilitated the milestones in my PhD journey so far. I am also happy about the congenial work stations given to PGRs, not to mention the social events organised to boost our morale and to relieve the stress that comes with research.
Not only do they challenge me, but they also offer very helpful advice that enhances my work. Their 'open door' policy to me is unmatched and highly cherished.
The most useful resources to me in this PhD journey have been the RDP workshops and the University Library.
The RDP helped me to smoothly 'take-off' in my research using its weekly and continuous workshops. The Library provides a collection of research materials in my research field which have been useful. I have also benefited from software purchased by the University to enable me analyse my data.
"My supervisors have shown great passion and dedication towards helping me to produce a quality piece of research."
I have benefited from collaborations since I started the programme in Surrey. I have had a joint publication with my supervisors and am still working on other publications. Through a tripartite workshop organised in China involving Surrey, Sun-Yat Sen University and University of Queensland, I have leveraged many opportunities to start collaborating with other colleagues and academics. I also have a healthy research network with colleagues at the School of Hospitality and Tourism, Hong Kong Polytechnic University, China.
I like the multicultural environment at Surrey. Staff and students in Surrey are very outgoing and always ready to offer help, which makes me feel at home. Surrey's proximity to London and the train station gives me the advantage to visit London anytime. The proximity to Gatwick airport has helped me a lot. I have travelled to Germany, Italy and China while at Surrey.
My proudest achievement has been going through my confirmation exams in the ninth month of my registration.
Following the end of my PhD journey, I would like to work as a lecturer in a university to teach and conduct academic research in the field of tourism. I would also like to collaborate more with industry practitioners and other universities other than the one I will teach in, to facilitate knowledge transfer.
I look back with great joy and fulfilment for successfully taking up my PhD at Surrey's School of Hospitality and Management. The School offers unparalleled teaching from academics providing world-class PhD research training and support. Completing my PhD at Surrey, has fortified me with top-notch research skills that will stand the test of time internationally."
Discover our programmes in hospitality, events, tourism and transport including our PhD Hospitality and Tourism Management.