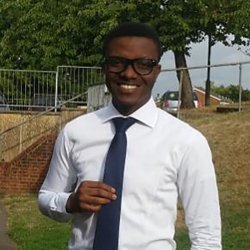 Gideon Ewa
"Studying something as novel as advanced 5G communications – particularly at Surrey with its leading research centre in this field – has been a thrilling experience."
Course
Mobile and Satellite Communications
"I had always been fascinated with mobile communication systems and developed a keen interest in satellite communications when I did my National Service at the National Space Research and Development Agency (NASRDA), the foremost space agency in Nigeria.
I decided that in order to achieve my goal of becoming a communication engineer, I needed to study both terrestrial (mobile) and satellite communications, which is why the MSc Mobile and Satellite Communications was the right course for me.
My decision to come to Surrey was also made easy by the strong collaboration between NASRDA, University of Surrey and Surrey Satellite Technology Limited (SSTL), as well as the University's impressive league table rankings and the rich content of its Masters course modules.
Studying something as novel as advanced 5G communications – particularly at Surrey with its leading research centre in this field – has been a thrilling experience. The academic staff have huge industry experience which they share with students.
One of the best aspects of the programme was the chance to attend numerous seminars and talks by representatives from both mobile and satellite companies – including Vodafone, Inmarsat, Intelsat and Airbus. Hearing from industry experts on past and current trends, future technologies, and the challenges being faced in the mobile and satellite industries was very illuminating.
I am always keen to break new ground, and chose to do my dissertation on Urban Tech for the smart city, which entailed researching the use of machine learning techniques in air quality prediction. I knew very little about machine learning beforehand, so this was a great opportunity to learn.
I would recommend the University of Surrey to anyone considering coming here. It is a wonderful place both in terms of studying and social life. There's plenty going on but also lots of areas to relax: I found the lakeside was the best place when I wanted to unwind."
Discover more about our electrical and electronic engineering programmes, including our MSc Mobile and Satellite Communications.