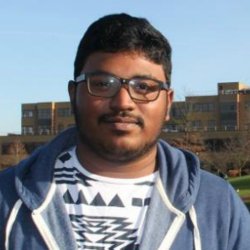 Hari ram narayanan Lakshmiah
"On my MSc course we have some of the best, most supportive academic staff I have ever met. The way they teach really pushes you to learn."
"I chose the University of Surrey for my MSc because I prefer the teaching methods at Masters level in the UK, which assume a certain level of knowledge, compared with the approach at US universities for example, which tend to begin with the basics. Information security had been my field of interest since I started exploring the question 'why is information so valuable?', so I wanted a course that would extend my existing knowledge in computer science and bring a new perspective. I was also attracted to the UK because of the value and importance it places on cyber security.
My main reasons for coming to Surrey were the University's high ranking in the league tables, and the fact that the MSc Information Security course is one of only a handful which are certified by GCHQ (the UK government communications headquarters). Surrey also hosts the Surrey Centre for Cyber Security (SCCS) which is one of 13 Academic Centres of Excellence for Cyber Security Research (ACE-CSR) recognised by GCHQ.
As a graduate from India I was eligible to apply for one of five GREAT Surrey scholarships available within Surrey's Faculty of Engineering and Physical Sciences, which required me to write an essay about what most inspires me about my field. I was delighted to win one of these scholarships.
"On my MSc course we have some of the best, most supportive academic staff I have ever met."
The way they teach really pushes you to learn, and they operate an 'open door' policy which means you can always get extra help when you need it. As well as providing us with academic knowledge they support and guide us to become industry-ready professionals.
The dedicated advanced security lab at Surrey is a one-of-a-kind learning environment where we explore the practical aspects of security as part of modules such as Cloud Computing, Information and Network Security, and Cryptography.
I've found that Surrey gives you opportunities which will help you in your future career – and this extends beyond what you learn on the course itself. Along with other universities in the ACE-CSR network, students on my course were invited on a trip to Cambridge which enabled us to learn about ethical hacking, as well as networking with students from other universities. I also serve as a course rep for my course, which involves attending meetings, talking to fellow students and capturing their views on different matters. These responsibilities have helped me improve my communication and team working skills.
While on the MSc I've also studied for an external certification. I already hold the CEH (Certified Ethical Hacker) and ECSA (EC-Council Certified Security Analyst) certifications, which have helped me to learn the security practices and procedures used in industry. I'm now looking forward to extending the knowledge learnt in the Information Security Management module by earning the CISSP (Certification Information Systems Security Professional) qualification.
One of the things that struck me about Surrey from my initial research was its strong reputation for employability. My Masters course has allowed me to build my knowledge, and I am now aiming to find a role as a security analyst or security consultant where I can test my skills dealing with complex security problems faced by organisations."
Discover more our computer science programmes, including our MSc Information Security.