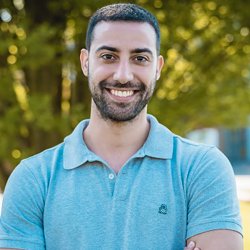 Ioannis Kalargaris
"I've been able to improve my entrepreneurial skills and develop a 'green' business idea which has gone through to the final round of an EU Project award, where I will have to pitch to investors."
"I used to be a professional swimmer, so I've been accustomed to challenging and hardworking environments from a young age. While I participated in a number of major athletic events during my career, the highlight was participating in the London 2012 Olympic Games, which is something I'd dreamed of doing since childhood. Another long-held dream of mine was to contribute to a sustainable future, and that is why I decided to pursue a PhD in energy after graduating from my BSc and MEng in Mechanical Engineering in Greece.
My PhD project, which has been conducted in collaboration with Thermitech Solutions Ltd, aims to help eliminate the environmental pollution which results from putting waste plastics in landfill, and to recover the energy from waste plastics, thereby reducing the world's dependence on fossil fuels. To achieve this, we are developing a pyrolysis plant to convert waste plastics into high quality oils. The oils can then be used as fuel in Internal Combustion engines for electricity generation.
When I started my PhD journey I couldn't imagine what an exciting and challenging experience it would be.
I initially thought that it just involved focusing on your project but have found that there are lots of other opportunities too. I've been lucky enough to be supervised by Professor Sai Gu, who has trusted me and given me the opportunity to invest my energy and passion in different projects.
Specifically, I've managed two Low Carbon KEEP projects, and provided academic support and advice for two KTP projects. I've also had the opportunity to engage with companies and discuss possible collaborations with the Department of Chemical and Process Engineering. In addition, I've been able to improve my entrepreneurial skills and develop a 'green' business idea which has gone through to the final round of an EU Project award, where I will have to pitch to investors.
I'm not sure exactly what I want to do when I finish my postgraduate studies, but I'll definitely be looking for a challenging role, probably within industry, where I can apply my knowledge and skills.
I'd definitely recommend Surrey to anyone thinking about doing a PhD.
Before I came here, friends who had already studied at Surrey told me how much they enjoyed it and, having now spent nearly two years at the University, I can confirm that it's an amazing experience."
Discover our programmes in chemical and process engineering, including our PhD Chemical and Process Engineering.