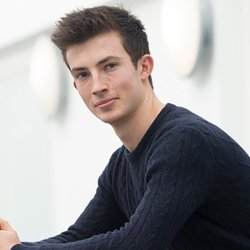 Joshua Coe
"One of the main things I learned during my placement was time management. Balancing my work duties, project work, distance modules, a social life and staying fit was challenging."
"Environmental chemistry was my favourite module in my first year at University and I knew that if I were to pursue a career in chemistry it would be in this field, so I applied to the British Geological Survey (BGS). Part of the Natural Environment Research Council (NERC), BGS is world-renowned for its research of the solid earth and wider environment.
Based in the analytical geochemistry department, I spent most of my time working in the inductively coupled plasma mass spectrometry (ICP-MS) laboratory.
The ICP-MS is an instrument used for trace element analysis and at BGS it was employed to test geoenvironmental samples such as groundwater, soils and rocks. Initially my tasks were to dilute samples and prepare calibration standards but by the end of the year I was able to run the instrument myself with a little help.
I also got the opportunity to carry out my own research project over the 12 months. This focused on arsenic in household dust found in homes in Cornwall and its impact on these households. Cornwall is known to have elevated levels of arsenic in the environment due to the mineralised geology of the area and historic mining activities.
One of the main things I learned during my placement was time management. Balancing my work duties, project work, distance modules, a social life and staying fit for my university sport (I was very involved with the University of Surrey Boat Club) was challenging. Prioritising tasks and not wasting time was key. My analytical thinking also improved greatly during my Professional Training year.
My research project is probably the achievement I'm proudest of from my placement: being able to use the skills and knowledge I've learned at Surrey on samples from the environment was a great opportunity. Away from the workplace, I was also very proud of the goal I scored for BGS in the organisation's annual football match against academics from the University of Nottingham!
While I'm now aiming to become an officer in the British Army – pushing myself in a completely different direction – studying chemistry at Surrey has been a good decision because a chemistry degree can take you anywhere. My advice to prospective students would be to follow what interests you; you'll find studying a module that you enjoy is so much easier. I'd also definitely recommend taking a Professional Training year. It gives you the opportunity to gain workplace experience which is so important to potential future employers."
Discover more about our chemistry programmes, including our MChem Chemistry.