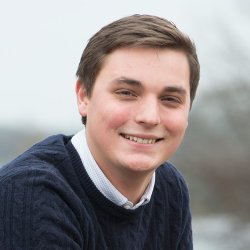 Kieran Mitchell
"I believe that by completing my Professional Training placement I have grown into a person ready for graduate life and well-prepared to begin my legal career."
"I had wanted to study law from a young age and have always been determined to one day become a solicitor. By choosing the LLB Law programme at Surrey I was able to complete core modules that qualified me to progress to my professional exams as well as undertake a Professional Training placement. Studying law is incredibly challenging, but it is a subject that has so much relevance in our day-to-day lives, whether that be understanding the legal aspects of current affairs or knowing the rights and obligations of your landlord.
The Open Day was the most important aspect of my decision to come to Surrey. I was already excited at the prospect of coming to Surrey but the helpfulness of Open Day staff and the opportunity to see the fantastic facilities, such as Surrey Sports Park and accommodation, was a great influence on my choice.
Of the number of reasons I chose to come to Surrey, it was primarily due to the incredibly friendly nature of the people all around campus and the opportunity to undertake a Professional Training placement. Entering the legal profession is hugely competitive and I saw my placement as an opportunity to greatly increase my experience and differentiate myself from other graduates.
I spent my Professional Training placement in the corporate law department of Penningtons Manches LLP, a large, full-practice law firm.
My work was centred around mergers, acquisitions, corporate restructuring and corporate governance. I assisted partners and associates on a number of transactions by offering administrative help, drafting legal documents and corresponding with clients. Some of my highlights were assisting on the completion of a multi-million pound takeover, meeting with directors of a company who were developing a new space shuttle and finally being offered both an extension on my placement due to my performance and my training contract with the firm's London office in 2017.
"The Professional Training placement is a fantastic opportunity and if you get the right placement it can offer you an outstanding experience to differentiate yourself from other graduates in the future. I learnt a huge amount on my placement which has benefitted me in my final year and will continue to do so throughout my career."
I also completed a semester studying abroad at the University of Queensland in Brisbane, Australia during my Professional Training placement. I decided to take this opportunity as it gave me the chance to study modules that were not available anywhere in the UK, such as mining and petroleum law. It also gave me an opportunity to develop my knowledge of jurisdictional differences and the international elements of legal practice at a world-leading school of law. The University of Queensland is one of the world's best Maritime Law schools and has world-renowned expertise in a number of areas.
I think I have changed massively since starting at Surrey. I have experienced so many things and enjoyed so much of it. I believe that by completing my Professional Training placement I have grown into a person ready for graduate life and well-prepared to begin my legal career."
Discover more about our law programmes, including our LLB (Hons) Law.