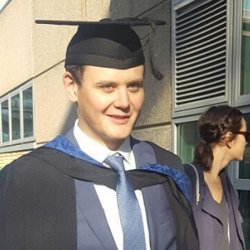 Kristian Fowler
"I'm currently working as a Site Engineer undertaking the partial demolition, repair and rebuild of Poole Bridge. The MSc programme at Surrey has provided me with the knowledge to understand the drivers and asset management involved."
Course
Infrastructure Engineering and Management MSc
"Since I was young, I've always been fascinated by the concept, history and processes of civil engineering and construction. No engineering project is ever the same and each has its own challenges and innovations.
After completing a BEng in Civil Engineering, I wanted to gain a more holistic view of the industry and give myself greater job options for the future. Surrey's MSc Infrastructure Engineering and Management stood out because it allows you to gain much more than a technical engineering knowledge. Instead of just focusing on construction, it looks at the whole lifecycle of a construction project, from financing all the way through each maintenance period.
I also chose to study at Surrey because it is a highly regarded university for engineering and, since Guildford is my local town, very handy! The campus is picturesque, with the lake providing a perfect place to take a break during the day or meet up on summer evenings – it's a tranquil environment to study in.
I found that the academic staff within the Department of Civil and Environmental Engineering were knowledgeable, accommodating and always very helpful with any questions or issues. They were receptive of students' feedback and did everything to optimise our learning experience.
My favourite part of the course was infrastructure finance. Our lecturer was so experienced and passionate about his subject, he made a topic which was previously completely foreign to me both fascinating and enjoyable. In fact I am now thinking about infrastructure finance as a potential job option in the future.
I'm currently working as a Site Engineer undertaking the partial demolition, repair and rebuild of Poole Bridge. The MSc programme at Surrey has provided me with the knowledge to understand the drivers and asset management involved in this complex project. In addition, the modules in Construction Law have given me a sound understanding of that side of civil engineering.
My advice to anyone thinking about enrolling on the MSc programme would simply be to enjoy themselves and relish the challenge of undertaking a Masters.
Discover more about our programmes in Civil and Environmental Engineering, including our MSc Infrastructure Engineering and Management.