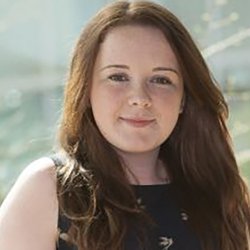 Laura Kent
"My confidence has sky-rocketed during my time as a Surrey student"
"I wanted to come to Surrey to study Chemistry partly because of the beautiful campus, but mainly due to the staff who were incredibly welcoming. I had also heard a lot about how active the Department's society was, and thought it would provide me with a support network that I hadn't seen elsewhere.
The Professional Training year was also something I wanted to do – and Surrey gave me great opportunities and advice throughout my placement at a nanomaterials company (Intrinsiq Materials Ltd).
Surrey's Chemistry course is challenging and up-to-date. The facilities are top of the range – especially now that a major research lab has been refurbished. I have loved taking the physical and inorganic chemistry modules, and am particularly enjoying my final research project on solid state chemistry. My supervisor, too, has been amazing, and encourages me massively in my work.
When I think about Surrey, I think about the amazing support network I have here in my academic life, and how I am able to do things I would never have thought of doing before. My confidence has sky-rocketed during my time as a Surrey student and I have even acted as a student ambassador for the University."
Discover more about our chemistry programmes, including our MChem Chemistry.