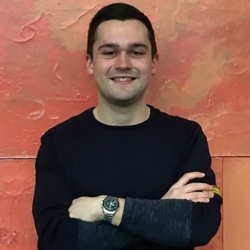 Matt Prescott
"I feel that Surrey's careful approach of focusing students' employability and career potential has helped me to finish my degree as a well-rounded and ambitious graduate."
Course
Chemical Engineering
"When I first considered Surrey for my undergraduate degree I was impressed by the University's high ranking in the league tables, for both the overall and subject-specific categories. I also found the information and videos of what goes on at the University really inspiring, and they allowed me to picture myself as a student here. However, I was particularly impressed by Surrey's promotion of the Professional Training placement programme and its associated employability benefits, which felt particularly relevant to an applied degree such as Chemical Engineering.
I have always enjoyed studying technical subjects, and first considered Chemical Engineering as it seemed like a good balance of the Mathematics, Physics and Chemistry I had learned during my International Baccalaureate (IB) course. When I further researched the degree programme and wider professional field, I was particularly drawn by the vast range of opportunities for chemical engineers to apply their skills to tackle global challenges - whether that is future energy use, healthcare and wellbeing, food and water or consumer goods.
My current MEng research project focuses on improving the delivery of chemotherapy drugs for the treatment of human cancer - an area I had never previously considered would benefit from a chemical engineer's input!
I completed a twelve-month Professional Training placement in 2014-2015 with Crondall Energy, an offshore oil and gas consultancy company based in Winchester, UK. I joined the company as an Intern Process Engineer in the Facilities Engineering department, having completed three years of my degree course at Surrey.
I would definitely recommend for any student to pursue a Professional Training placement, regardless of which degree course they are interested in- it offers an invaluable opportunity to gain exposure to work in a particular industry, and can help direct your early career choices.
As an Intern Process Engineer, I took an active role in developing the early designs for offshore petrochemical processing facilities. This included equipment sizing calculations, creating computer simulations of the chemical processes, and producing equipment layout plans for offshore installations. I also produced a range of technical drawings using the company's computer software, and acted as a document controller for several client projects.
While I was supported by more senior process engineers throughout my placement, I really appreciated the experience of working independently and putting the principles I had learned at University into practice. I am certain that my Professional Training placement experience played a vital part in helping me secure the graduate position I will start upon finishing my degree course. I feel that my experiences here at Surrey have helped to shape me on both a personal and academic level. 
I feel as though this is a really exciting time to be at Surrey - the University is growing quickly and there is a definite buzz around campus, which reflects its recent success in the university league tables. I have made lifelong friends here while being able to develop into a confident and motivated graduating student, ready to enter my career and achieve great things. I can say without doubt that I have enjoyed some of the best years of my life at Surrey, and would actively encourage prospective students to come and see for themselves at an Open Day what a brilliant place this is!"
Discover more about our chemical and process engineering programmes, including our MEng Chemical Engineering.