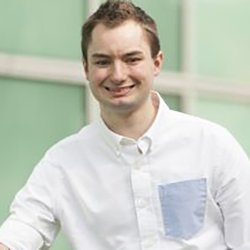 Matthew Taylor
"Surrey has provided me with everything I need to have a fruitful career"
"I always wanted to study Medical Engineering. What attracted me to Surrey, in particular, was the fact that the University offered me a Professional Training placement on a mechanically-orientated course, so that I could learn about the theory but also apply it in a real-world setting.
I have benefited from taking key modules with other mechanical and aeronautical engineers, and applying this knowledge in medical modules such as biomechanics and biomedical signal processing. My supervisors have also been attentive and provided me with all the help I needed throughout my studies, and they have helped me get my dissertation to the level it is at today and for that I am very grateful.
My dissertation involved designing a new prosthetic elbow, inspired by my placement with RSL Steeper. At RSL Steeper, I had the unique opportunity to develop the most advanced prosthetic hand in the world: the bebionic3.
I am glad I chose to study Medical Engineering at Surrey. It has been a challenging but rewarding degree, and I have definitely matured as a person as a result. I have learnt how to judge a situation properly, instead of jumping to conclusions, and feel like Surrey has provided me with everything I need to pass my degree and have a fruitful career in the future."
Discover more about our mechanical engineering programmes, including our BEng and MEng Biomedical Engineering.