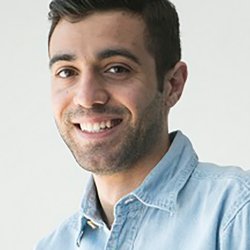 Nicholas Elia
"I would encourage anyone with a passion for programming or technology to take this course."
"The University of Surrey is highly ranked for its Computer Science degrees, and the campus itself is just 40 minutes away from London via the train. My sister, who'd also studied here, was really satisfied by the quality of her course and the materials offered – so I knew I wanted to study my degree at Surrey too.
I soon realised that deadlines are not just for coursework but for industry. Surrey's Computer Science course taught me how to manage my time, arrange meetings and get the most out of group work. It's amazing how fast a person can mature over a short period of time!
Surrey has impressive facilities compared to other universities. I appreciate the library and the classrooms, which come equipped with microphones, speakers, whiteboards and projectors; and the lab computers are modern and have strong processing power.
Since starting on this course, I've taken nearly 30 modules. The Computer Science course provides you with such a diverse range of modules that you can tailor your pathway to suit your own interests. Some of my favourite modules include Artificial Intelligence, and Computational Intelligence. I got to experiment with machine learning and different algorithms that mimic neural networks, brain cortex, bird flocks, genetics and so on – algorithms which can go on to help robots make independent decisions.
I owe my success so far to my supervisors who have kindly offered valuable help, advice and guidance. During your time here, you'll get assigned a tutor, who will encourage you and dedicate time to explaining difficult concepts.
I also got the chance to take a Professional Training placement on this course. I worked as a software engineer for a year – the placement really enriched my knowledge on advanced level programming. I think the option of taking a placement is invaluable for your future prospects. I want to encourage anyone with a passion for programming or technology to take this course, as you'll gain good skills that will guarantee great job opportunities."
Discover more about our computer science programmes, including our BSc (Hons) Computer Science.