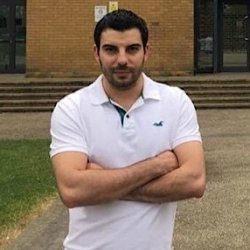 Patroklos Hadjinikodimou
"I feel that coming to Surrey was the correct decision as, shortly after my graduation, I was offered a job as a Graduate Engineer at WSP, one of the world's leading civil engineering firms."
Course
Infrastructure Engineering and Management
"After completing my undergraduate degree in Cyprus I was looking for a new challenge and began to research Masters programmes.
Very few universities offer a Masters programme in infrastructure engineering, and that's one of the reasons I came to the University of Surrey to study on its MSc in Infrastructure Engineering and Management. In addition, I was impressed not only by Surrey's high rankings, but also its excellent facilities, strong connections with industry, and very high student satisfaction ratings.
I find infrastructure engineering a fascinating field. Infrastructures are the foundations of every society and their quality has a direct impact on a nation's rate of growth and people's living standards. Knowing that, I was keen to understand how we can invest in and drive our infrastructure forward in order to meet continuously increasing demand.
One of the things that attracted me to Surrey's programme was the fact that it's not limited to engineering modules, but is designed to give a rounded knowledge on all aspects of infrastructures including investment and finance, sustainability and management. I also like the flexibility the course offers, with four compulsory and four elective modules. This means that you can gain a core knowledge in infrastructures and, at the same time, specialise in the areas you are most interested in.
The academic staff on the MSc programme were highly knowledgeable and always willing to help and share their expertise. I was very impressed by the visiting lecturers we had throughout the year. Some of these lecturers, who were industry leaders, shared their experience about real-life infrastructure projects and suggested dissertation subjects for us to research.
Aside from work, Surrey offers an excellent social life, with lots of activities and events organised by the Students' Union and the numerous societies and sports clubs. Living on campus enabled me to meet people from different cultures and make new friends, while I also made great use of the Surrey Sports Park, which has outstanding training facilities.
My overall experience at the University was great and I really enjoyed the course. I feel that coming to Surrey was the correct decision as, shortly after my graduation, I was offered a job as a Graduate Engineer at WSP, one of the world's leading civil engineering firms."
Discover more about our civil and environmental engineering programmes, including our MSc Infrastructure Engineering and Management.