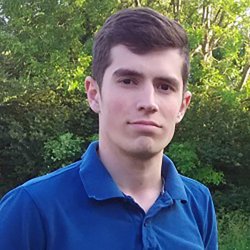 Petar Georgiev
"I think my proudest achievement has been delivering face-to-face presentations to our customers and discussing ways to solve various design issues with them."
"As a student coming to the UK from another country (Bulgaria), one of the things I was looking for in a university was a high level of support in securing a placement. Surrey seemed to put a lot of emphasis on helping students gain practical experience in a real working environment.
My initial perception was right. I didn't find the process of applying for placements overwhelming thanks to the amount of support provided by the University. This included sessions on writing your CV and how to answer questions on application forms, and presentations from students who had already been on placement and could give us advice based on their first-hand experience.
I'm spending my placement with Cummins Inc., a global manufacturer of diesel and natural gas engines designed for various applications, from generator sets to heavy industry and marine. Cummins offered me the role of Design Engineer, based in Daventry, Northamptonshire, UK, which I saw as an excellent opportunity to apply the skills and knowledge I had gained during the first two years of my degree programme to real commercial projects.
My main duty has been to design new components for the lubrication and cooling systems of engines from the company's High Horsepower engine platform. This includes CAD modelling of parts and assemblies, producing and modifying engineering drawings, running structural and fluid flow analysis on parts, managing various projects, and reporting on my progress to senior engineers. During my placement I've worked with colleagues from many other parts of the organisation including validation, testing, purchasing, service, manufacturing, drafting and product release.
I think my proudest achievement has been delivering face-to-face presentations to our customer and discussing ways to solve various design issues with them – in some cases even standing in for my supervisor when she was unable to attend the meeting.
One of the most important things I've learned during my placement is how to manage my time on several projects while at the same time keeping people informed about my progress on each of them. I've also learnt that different people have different communication styles which I might not initially understand, but that doesn't mean that they are being impolite or inconsiderate.
I was first inspired to study my subject by the famous automotive engineers who have come up with innovative ways of powering the cars of the future to help improve their efficiency and reduce their environmental impact – people like Gordon Murray, Elon Musk and Christian von Koenigsegg. When I graduate from Surrey I'd like to follow in their footsteps. I hope to get a job in the automotive industry and gain more experience before eventually starting my own car company."
Explore more about our mechanical engineering programmes, including our MEng and BEng degrees in Automotive Engineering.