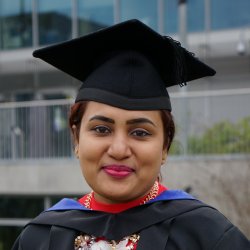 Prathibha Goonawardhana
Prathibha Goonawardhana studied for Surrey's two-year MSc Electronic Engineering (Euromasters) and is now employed as an engineer in Dubai, working on the Sharjah Airport International Free Zone.
Why did you decide to study for Surrey's Euromasters course?
From my online research I knew that Surrey was highly ranked for electrical and electronic engineering, and when I visited I was really impressed with all the satellite communications and 5G work that was going on here.
I chose to do the two-year Euromasters course because it gives you the opportunity to spend six months in industry doing an internship. In the end, I was fortunate enough to spend eight months at Unique Secure Ltd on the Surrey Research Park, helping to design a universal voltage regulator, and also undertook a project at Telefonica which involved me designing an Android application.
What were the best things about Surrey?
I learned so much more about engineering than during my undergraduate degree, and really engaged with the satellite communications part which I found fascinating. The Department of Electrical and Electronic Engineering has good relationships with industrial companies in the sector and set up opportunities such as a guest talk with Intelsat.
Above and beyond everything else I would say the academic staff were the best thing about Surrey. In particular, the programme leader Dr Tim Brown was there whenever I had a problem, even at 10pm, while other staff also helped me a lot when it came to finding a project. I really can't thank them all enough.
What are you up to now?
I'm currently working as a sales engineer for Modern Heating in Dubai where my work is focused on the Sharjah Airport International Free Zone (SAIF Zone), but I would eventually like to work in the satellite communications sector, having been inspired by what I learned at Surrey. I'm applying to move to Canada as a permanent resident where I will be looking for this type of role.
Discover our programmes in electrical and electronic engineering, including our MSc Electronic Engineering (Euromasters).