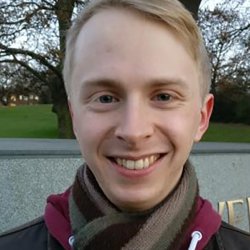 Robert Steven
"I'm passionate about my subject because I believe that electronics can be used to provide solutions to some of the greatest problems that face our society – both now and in the future – and I'd like to help build these solutions."
Course
Electronic Engineering
"I have been interested in electronics since secondary school, and wanted to study a degree that involved both practical problem solving and developing technical skills. When I visited Surrey for an open day I was extremely impressed by the knowledge and enthusiasm of the staff, and also the campus with its great facilities and beautiful surroundings.
Now in my final year, I can definitely say that my first impressions were right. Tutors are always willing to go the extra mile to answer students' questions, and genuinely care about the student learning experience. The facilities I've worked in – the undergraduate teaching labs, computing labs and the Advanced Technology Institute (ATI) – are of a very high standard, with up-to-date equipment and plenty of working space.
During my programme I've especially enjoyed the practical elements, such as the laboratory sessions in the first and second years and the project work (both group and individual) in the third and Masters years. I believe that the hands-on experience you gain from these is invaluable when working in industry – you learn a lot of the core skills you're going to need going forward as an electronic engineer.
I'm passionate about my subject because I believe that electronics can be used to provide solutions to some of the greatest problems that face our society – both now and in the future – and I'd like to help build these solutions.
Doing a Professional Training placement year between my second and third years gave me the opportunity to explore what life as an electronic engineer is like. I went to Broadcom in Swindon, where I was involved in the testing and validation of NFC chips, spending the majority of my time in the labs. I also completed a summer placement at Cirrus Logic in Newbury where I was part of the analogue design team rather than the testing team, which gave me a new perspective on the process of designing and making chips. The placements were organised through UK Electronics Skills Foundation (UKESF), and I thoroughly enjoyed both experiences.
Coming to the University of Surrey is not all about studying. I've been heavily involved with Stag Radio since my first year, and became station's technical manager in my second year and then station manager in my third year. As well as making a number of close friends, being part of this society gave me opportunities that it would be difficult to find outside of university.
What I like best about Surrey is that everything is very close by; the University itself is a campus and then you have the town, Surrey Sports Park and the supermarket all just a short walk away. There are so many different things you can get involved in – whatever your interest may be, there's a good chance there'll be a sports club or society where you can find people who share your passion."
Discover more about our electrical and electronic engineering programmes, including our MEng Electronic Engineering.