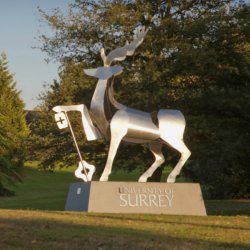 Sanjeeva S Godakandage
"There are so many things about Surrey that I'll never forget - the location, the quality of education etc. However, my strongest memory is the friendliness of the staff."
Course
Nutritional Medicine
Why did you choose to study at Surrey?
I was doing my postdoctoral training in London. My specialism is infant and young child nutrition, and I explored the opportunities available in the UK to further my knowledge on that subject in particular, and medical nutrition in general. After searching all the academic courses available, the Nutritional Medicinecourse at Surrey looked closest to fulfilling my objective. I made the correct decision.
Did you always want to be a doctor?
Becoming a doctor was my childhood dream. During my schooldays, I was attracted to several other subjects as well, but those were not strong enough to distract me. After getting into the medical school, I was really glad that I made that choice. I felt empowered to help people who are really in need.
Having worked in the UK and Sri Lanka, are there differences in healthcare system?
There are so many similarities in the healthcare set-up of the UK and Sri Lanka, as the Sri Lankan system was introduced by the British colonial rulers. However due to the different socio-economic contexts, a number of differences can also be observed.
The traditional Ayurvedic medical system is still popular in Sri Lanka. I found the healthcare system in the UK highly sophisticated, and patients' rights oriented. The healthcare set-up in Sri Lanka is more system-driven.
During my postdoctoral training in the UK, I heavily concentrated on breastfeeding promotion. In the UK, the breastfeeding promotion programme is almost exclusively focused on the Baby Friendly Initiative and a main focus is addressing the childhood obesity rate.
In Sri Lanka, the breastfeeding promotion programme is implemented with the backdrop of highly favourable socio-cultural contexts. The Baby Friendly Initiative assumes a lesser significance, and there are a large number of interventions aimed at promoting breastfeeding practices. In contrast to the situation in the UK, the breastfeeding promotion programme is aimed at giving a sound start to life, so that childhood under-nutrition rates can be reduced.
What has been your career highlight to date?
I see my present position as a challenge as well as an achievement. There were so many things on the way, which gave me a huge satisfaction. It always gives me a great pleasure to think about the workshop organised for heads of major hospitals and other medical administrators of Sri Lanka on the Baby Friendly Hospital Initiative (BFHI), which was an initial step aimed at revitalising the BFHI process in the country. I was only a non-specialist medical officer at that time, and I had to do it almost single-handedly. However, it was well attended, not only by medical administrators, but also by a technical expert from UNICEF headquarters in New York, and was considered a huge success. However I could not take that process further, as I had to leave for my post-doctoral training in the UK.
What is your strongest memory of your time at Surrey?
There are so many nice things about Surrey, that I will never forget - the location, the quality of education etc. However, the strongest memory would be the friendliness and unpretentiousness of the staff. Whenever I needed help, either within the campus or through emails, I always received it, be it from the course director and other academic staff or from the administrative staff. To date, I am encouraged to keep in contact with the University - I do not think there are very many universities that can rival Surrey on that.
What is the one thing you would say about Surrey to someone who doesn't know anything about it?
It would be: 'I will be surprised if the University of Surrey is unable to fulfil your aim!'
What are your top tips for students aspiring to work in your profession?
It involves hard work. Also you won't get immediate satisfaction, as in clinical medicine, so you need to have a genuine liking for public health medicine. The top priority should always be the well-being of the public that we serve; perseverance is a must - one fine day it will pay off; last but not least, balancing the professional and personal life is of utmost importance.
Discover our MSc Nutritional Medicine programme and others in the field of Biosciences and Medicineand Food, Nutrition and Dietetics.