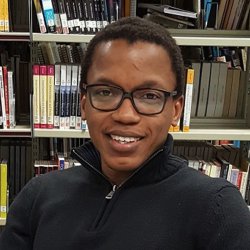 William Sereki
"One of the great things about the programme is that modules such as Information Security Management have covered most of the knowledge I needed in order to take professional certifications."
Course
Information Security
"I've always been interested in learning about Information Technology, but the added challenge of finding ways to protect IT integrated with other solutions is something I find endlessly fascinating.
I chose to study for the MSc Information Security at Surrey because the programme modules complimented my experience and the areas where I wanted to expand my knowledge. The University is uniquely placed to teach the subject since its Surrey Centre for Cyber Security is one of the UK Academic Centres of Excellence in Cyber Security Research (ACE-CSR).
I was also impressed with Surrey's continual rise in the league tables, which told me that it constantly invests in its programmes, and its breath-taking surroundings, which I knew would fit in well with my active lifestyle.
I've enjoyed all aspects of the MSc programme, but what I've found particularly interesting are the theoretical modules which allow you to trace the history of solutions that enable us to transact safely on the internet. We've studied case studies on industry attacks that have happened, examining why they happened and the lessons that have been learnt to prevent future attacks.
I've also found the lab simulations of attacks interesting, especially when we have focused on mitigation measures to defend against different scenarios.
One of the great things about the programme is that modules such as Information Security Management have covered most of the knowledge I needed in order to take professional certifications. I've gained CISM (Certified Information Security Manager), ISO27001 Lead Auditor and PCIP (Payment Card Industry Professional) certifications, which are highly sought after by employers and a good way of demonstrating the depth and breadth of your knowledge and skills.
The academic staff in the Department of Computer Science are outstanding in their preparation of modules and the post-lecture support they offer – they go out of their way to help.
I'm keeping an open mind about whether to put my knowledge and skills to use in industry or continue my studies on a PhD programme once I finish my Masters. I feel that the MSc Information Security prepares you really well for either path."
Discover more about our computer science programmes, including our MSc Information Security.