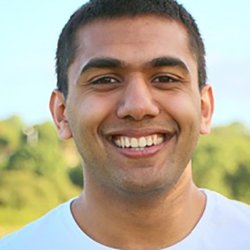 Yatin Vadhia
"I love studying computer science at Surrey and I've got a Google summer placement lined up."
"I decided to join the University of Surrey because of its location to London, graduate employment rate and highly-ranked Department of Computer Sciences. Fast internet connections, campus Wi-Fi and the Professional Training placement as part of the degree sealed the deal for me.
During my course, I've taken work experience at BAE Systems and at the London Olympic Games. I thoroughly enjoyed my time at BAE Systems as I got the chance to combine analytics with social networks to identify suspicious behaviour. And as Assistant Venue IT Manager during the run-up to the Games, I monitored 200 computers and managed teams of up to 24 people, including volunteers so I had to learn very quickly on the job! It was a really great experience.
The lecturers here are fantastic. Admittedly they won't do your coursework for you but if you ask for help, they'll support you in problem-solving and encourage you to look at questions from a different angle. The facilities are good, with 24-hour access to both Linux and Windows computing labs, so you're never without equipment.
In terms of modules, modules for your first two years are prescribed, then in the final year you get to pick five modules alongside a professional project. Some of my favourite topics include Programming Fundamentals, Mobile Computing and Networking. I'm looking forward to picking modules from Surrey Business School too, in my final year, as I think it'll give my degree a business edge.
I love studying Computer Science at Surrey and I've got a Google summer placement lined up. Who knows what the future holds!"
Discover more about our computer science programmes, including our BSc (Hons) Computer Science.