Ground station
We received the ground station from Surrey Satellite Technology Ltd (SSTL) in 2008. It was the first of the VHF/UHF reception ground stations to be developed as part of the ESA GENSO Project (Global Educational Network for Satellite Operations) under Professor Tanya Vladimirova.
The station is now the primary VHF/UHF for transmitting and receiving our missions.
Ground station

Our ground station is open for businesses and is also used for undergraduate, postgraduate, and research projects. Our students use the equipment, computers and soldering stations during their studies.
Our current equipment includes:
BA antennas - 144 and 430 medium gain circular-polarised yagis
BB antennas - 144 and 430 high gain circular-polarised yagi and helical antennas, used on previous Surrey Satellite Technology Ltd missions
LNA - 430-440 MHz SP-7000 LNA preamp and 140 MHz SP-2000 LNA
HPA - Discovery-2 VHF 400-1500 W valve amplifier and Gemini-70 UHF 300 W solid-state amplifier
Rotator - Yaesu G-5500 controller
Radios - ICOM 910H
Terminal node controllers - Paccomm Spirit-2, Symek TNC2H & Kantronics 9612+
Software defined radio tools - Ettus USRP B210, Fun cube dongle (FCD), DVB dongles
Desktop computers - Windows (Orbitron, SDR#) and Linux (gnuradio, custom interfacing and data processing programs).
Get in contact
We offer any amateur satellite support where possible! For availability and information please get in touch.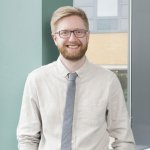 Reader in On-Board Data Handling (OBDH)