Battersea network
We are very proud of our Battersea legacy and the many alumni who have helped shape the University of Surrey.
Celebrating our history
1891

Battersea Polytechnic opens

The firm foundations on which the University of Surrey are built stretch back to the late 19th century, when Battersea Polytechnic opened its doors to 2,406 young men and women aged between 16 and 25.

The Polytechnic specialised in science and technology subjects, and in later years its courses were validated by the University of London.

1956/57

College of advanced technology

Its academic reputation steadily grew to the point in 1956 when it was one of the first colleges to be designated a 'college of advanced technology' and was renamed Battersea College of Technology in 1957.

1962

Moving to Guildford

By 1962 the college had outgrown its Battersea site, and it was decided to move to a greenfield site in Guildford.

1966

Became the University of Surrey

The college was granted a Royal Charter as the University of Surrey in September 1966 and the move to its new campus was completed in 1970.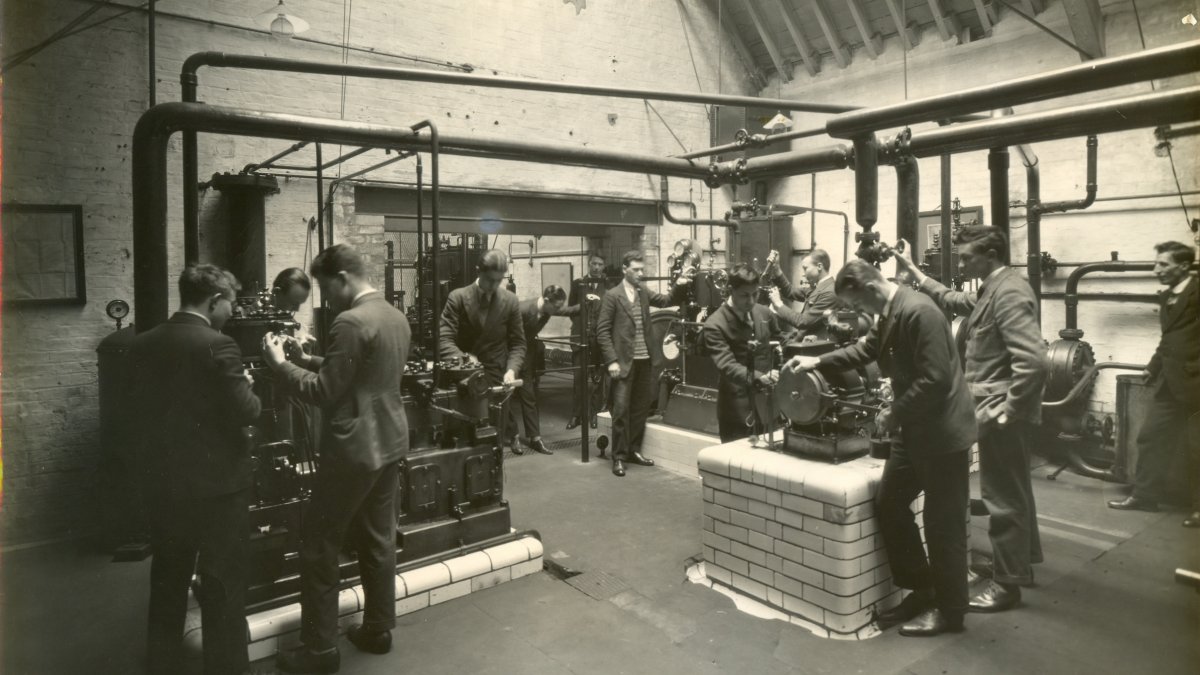 Recognising our rich heritage
To formally recognise our rich heritage we have run a number of events and projects over the past few years. These pay tribute to our Battersea graduates and capture their stories and experiences to inspire future generations and connect current students to the history of their university.
Honorary degree ceremonies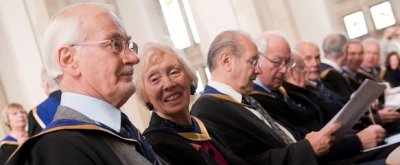 We marked the 120th anniversary of Battersea with two honorary degree ceremonies in Guildford cathedral for a large number of Battersea graduates who received diplomas instead of degrees or who missed their original graduation ceremonies.
The ceremonies attracted former Battersea students spanning the 30-year period from 1941 to 1971. Some travelled from as far afield as Australia, Canada and South Africa to graduate, attend a reception and catch up with old friends.
Director of Development and Alumni Relations Chris Gethin said: "It was a day full of nostalgia. Old friends swapped stories and we are privileged to have been able to add to those memories by awarding them their honorary degrees. It was a truly unforgettable experience; we are very proud of what we have done and we are proud of the history of these graduates."
Missed out on your honorary degree?
If you went to Battersea but missed out on the ceremonies, we can still bestow an honorary degree. Please get in touch with us by calling +44 (0)1483 683143 or email alumni@surrey.ac.uk for more information.
Build our History project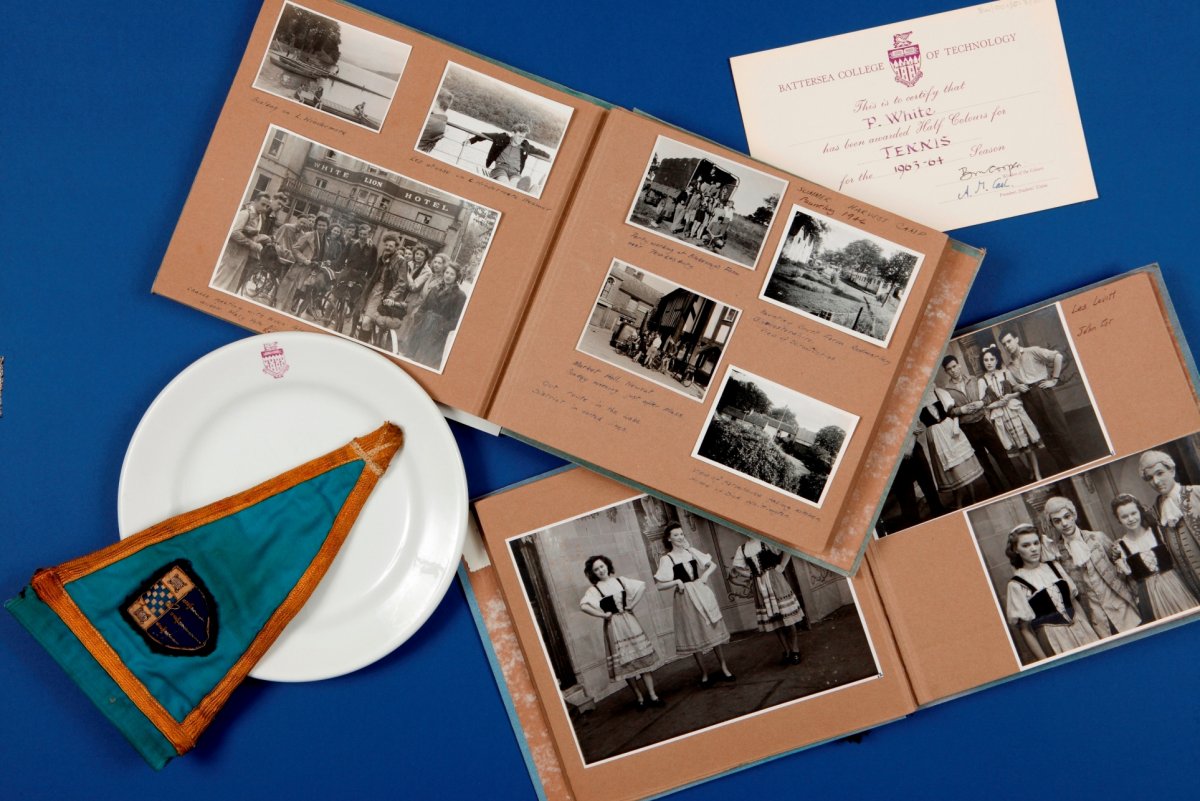 In our 50th anniversary year, we revealed the results of our Build our History initiative to create a lasting record of student life at Battersea. It was supported through a £10,000 grant from the Heritage Lottery Fund and a legacy bequest.
Battersea graduates were asked to donate personal artefacts, take part in an oral history project to record their personal memories, and volunteer in the University's archives department. The response was overwhelming and Surrey has been able to swell its archives considerably and record 80 oral histories for posterity.
The highlight of the project was the unveiling of a Battersea timeline commemorative wall. This will be a permanent reminder of the University's heritage. Vice-Chancellor Professor G Q Max Lu said: "I think it is very fitting and meaningful for us to pay tribute to our Battersea heritage in such a way, as it is part of the University of Surrey's enduring and valuable legacy."
Please take a look at our timeline (PDF) to learn more about Battersea's history.
We have recorded a number of interviews with former Battersea students and staff as part of the Build our History project. Listen to some of our oral history excerpts below which capture their memories.
The Usk Road annexe
Margaret Westwood, who taught economics at Battersea and Surrey, remembers the attempts to provide more facilities in London as the College expanded and the less-than-salubrious conditions at Usk Road, a former primary school.
Listen to Margaret Westwood discussing the Usk Road annexe 
The March Hare's Ball
Mike Banfield (Chemical and Process Engineering, 1958) recalls organising the March Hare's Ball for fellow Battersea students, its themes and post-event antics!
Listen to Mike Banfield reminiscing about the March Hare's Ball
Bricks and mortar
The college hostel at Clapham Common North Side figures large in the memories of many alumni, including Keith Goddard (Chemistry, 1965). In this excerpt, Keith remembers the rather primitive laundry facilities.
Listen as Keith Goddard recalls the rather primitive laundry facilities at Clapham Common
We would love to receive personal items from alumni that capture Battersea's essence and help bring history to life.
We want to enrich the existing collection in our archives through personal documents – letters, diaries, photographs, tickets, posters - artefacts which illustrate what it was like for those of you living and studying at Battersea.
If you have memorabilia from Battersea that you would like to donate to the Archives Department to be enjoyed and appreciated by future generations, please contact Lucy Evans, Volunteering Manager, on l.a.evans@surrey.ac.uk or call +44 (0)1483 683148.
We would like to share the existing Battersea collection with alumni who we hope can help us identify and sort out the vast array of material archived and tell the stories linked to them. Archives staff will show you how to handle and record memorabilia and be on hand if you need advice.
Please register your interest with Lucy Evans, Volunteering Manager, on l.a.evans@surrey.ac.uk or call +44 (0)1483 683148.
Your memories
We always love to hear our former staff and students' favourite memories of their time at Battersea.
From sport to social activities, graduation to accommodation, read a few recollections from our alumni below.
"In September 1949, some 20 or so people gathered to form the three-year 'New Regulations' University of London Internal 'Special' Chemistry course. Among them were eight who had had their education delayed through service in HM forces (two in the Royal Navy, three in the Army and three in the Royal Air Force). There were two ladies in the number. In addition to chemistry, the course involved the study of mathematics and biology for one year and physics for two years. We were examined in German and French."
The course
"Being a science subject, it was very necessary to incorporate a significant amount of practical work in the course and this meant that there were few of the free periods which other students were able to experience. Also, as most of those participating were not resident in Battersea, travelling to and from the Polytechnic could be time-consuming."
Sport
"Limited facilities were available in the Polytechnic building, but these included fencing. Athletic training could be carried out using the running track in Battersea Park, and those who wished to go swimming could do so in the public baths at the Latchmere. For those playing rugby, it was necessary to make their way to the Polytechnic sports ground at Merton."
Social activities
"One of these involved acquiring the mascots from other University of London colleges (not, of course, Imperial, because theirs was the Albert Memorial and it was generally adjudged that no one would wish to take that!) - Reggie, the King's College lion, was however a favourite. The Battersea Poly mascot, named Oscar, an eagle, had to be carefully guarded.
"During the period in question, it was reported that the fountains in Trafalgar Square had one evening started to fluoresce, nothing, of course, to do with the production of fluorescene in the Battersea Poly chemical laboratory. There was also a report that tear gas had been introduced into a communist party meeting held in the building – where it came from remains a mystery.
"A measure of rivalry existed between the chemists and the chemical engineers, and this often manifested itself in water battles."
Funding
"Tuition fees were paid, and the ex-service people were able obtain further education and training grants which, for those who were single, could amount to £150 a year. This meant that full-time, mainly manual work, was necessary during the vacations with the railways and the post office (at Christmas) being well used."
After graduation
"A group of 11 continued to meet annually for over 50 years, until their numbers reduced to three. They moved into a variety of industries including leather, petroleum, packaging, cement, paint, cosmetics, pharmaceuticals and patents."
"I arrived at Battersea in 1949, just before I turned 18, to find to myself in a new world of girls, foreign students and wartime ex-servicemen.
"Our studies were rigorous but focused much more on economic deployment than on blue sky academe. Our examinations were equally rigorous – we sat papers from both the Institution of Metallurgists and London University (we were a constituent college).
"The examination for just one of our final-year subjects, advanced metallurgy, consisted of two three-hour written papers, where we were expected to demonstrate our knowledge of two different advanced fields, coupled with a four-day practical examination.
"We drew with pencils; quantitative and qualitative chemical analysis was by wet methods, microscopes were optical only, calculations were with slide rule and books of tables of functions and libraries were all on paper. IT was a long way off.
"There is also a story to be told about the staff at Battersea. They laid the foundations of today's work at Surrey, its excellence, its ethos, its focus and its future."
"Nervously, I arrived at Battersea Polytechnic on a miserable morning in September 1954 to join the Hotel and Catering Management Department. The sombre 1890s red brick building and faded interior housed a welcoming and friendly atmosphere.
"Situated in a densely-populated London borough, it had no campus but its Great Hall was the scene of regular dances, balls and banquets. Nor was the residential accommodation like that enjoyed today. In my earlier years, there were three of us in a room in the College's female hostel, an austere five-storey block overlooking Clapham Common, sharing a kitchen and toilet with many others. Most of us had never been away from home before, but, with London on our doorstep, the world was our oyster. Often, I recall climbing through a hostel window in the early hours so as to avoid the wrath of the resident warden."
"College life was somewhat of a revelation when I went up to Battersea in the late 1950s. As a Sunday schoolteacher from a girls' grammar school in Devon, two aspects stood out – the international mix and the high proportion of male students, both of which I grew to appreciate!
"The only way into [the] College was [through] the front entrance via the porter's lodge. Women then had to negotiate the 'corridor club', a pack of young men who gathered on the main thoroughfare or at the junctions. Slowly I worked out an avoidance strategy, not leaving or entering the building at peak times and looking both left and right before deciding which route to take to lectures. It was not so much the comments as the laughter which followed in your wake which was so unnerving as you tottered along in tight skirt and often heels – no jeans or trainers for women in those days.
"Because I could type (a rare skill among students then) I spent five terms as secretary of the Students' Union. We hit the headlines of the University of London Union newspaper, Sennet, in 1959 when the principal, Dr West, dissolved the Students' Union. What started with a vote of 'no confidence' in the Union President soon escalated into a major row between the Students' Representative Council and the Principal, who had final control of union activities."
"There was no advisory council for foreign students in Battersea, and we had to trample along with the help of fellow students. One such Indian student taught me the ways to survive in London and combat the cold and the bland boiled food which a student from India had to endure.
"The Green Café and the Eagle adjacent to the college were our favourite haunts for food and drinks respectively. The Green Café owner, Mrs Olga, was from Greece and would serve Greek and Italian dishes which suited well my Indian taste buds, and her spaghetti bologna was my favourite dish. Fish and chips with vinegar served on a piece of new paper for half a crown was delicious. I believe that the members of the 53 Club of the Metallurgy Department meets at the Eagle once a year even today."
"The old premises looked imposing enough as the fresher, that's me in somewhat alien surroundings, walked in one fine October morning. Do not remember if the sky was cloudy as often was the case but still it was fine to me on that particular day. Lots of expectation, some anxiety, desire to live up to the set goal – all went through my crowded head.
"Duffle coat was handed over, the token collected and I went looking for the Mechanical Engineering Department on the first floor. Mr Robertson, looking like a patriarch, advised me to the assigned classroom. All new faces, about 70 per cent local and a mix of Indians from India and East Africa and some from Africa / Nigeria.
"A little later we were addressed by Mr Robertson, who, in simple language, outlined the outline of our course, the labs, both at Battersea and at Putney, and chalked out our weekly routine. We were told about the tea party at the main hall the same afternoon where we would be addressed by the Principal. The locals were already whispering about the incoming Fresher's Ball which was of no importance to me at that time. That is how my first day ended.
"Not being very proficient in spoken English at that point of time, I had difficulty in following the different accents of my fellow English students. But they were very supportive and were patient with me. One funny incident that comes to my mind was when I mistakenly switched off power of an experiment my group was conducting in the Heat Lab. The demonstrator was not amused although his silence was eloquent.
"Despite my initial language problem, I never faced any problem with any of my lecturers. Mr Waite, Mr Merter and Mr Fergie from Thermocynamices, Mr Goddard from Electrical, Mr Towner from Metallurgy, Mr Willogorsky and Mr Kolojosky from Materials – all were really helpful. Mr Kontwot of Engineering Drawing was a dear, always full of jokes, which took the sting away from problems."
"I joined Battersea in 1960 and soon discovered the Green Café dishing up fish and chips with those green peas overflowing the plate as the old lady owner rushed between the crowded tables. Next it was the pub across the road, The Eagle, before walking up the hill to the Clapham Common hostel and meeting all the 'old' second and third-year undergraduates – at least they seemed old then. Now we are!
"Thank you Battersea College."
"Head of Department was the very energetic and slightly awe-inspiring Professor Lewis Elton. The Dip Tech students included only one other girl out of an intake of about 22. My first memory is of the initial informal get-together in one of the laboratories to meet Professor Elton and some of the staff. Afterwards all the males departed and it was left to Ann, myself and departmental secretary Gladys to clear away the plates and teacups!
"I lived in the college hostel at Clapham Common North Side. This was fairly basic accommodation: the building was rumoured to have been condemned since the 1950s. However, good cooked breakfasts and evening meals were provided. We used to make extra marmalade sandwiches at breakfast time, to save money on lunch. Visitors of the opposite sex were often in rooms after the 10pm deadline. To avoid detection, they used to leave via the (unlocked) fire doors on the top floor and go downstairs in the next house, where a male visitor in the men's house would occasion no comment.
"One lasting memory is of a particular boy who was always staring at me in the Library – I'm still married to him today! In fact, my family can boast several connections with the Poly: Grandmother Fanny Louise Huitt studied shorthand in the early 1890s; uncle Lionel Huitt took a BSc in Civil Engineering from 1922-1925; father Walter Huitt studied the same course from 1927-1930, mother Hilda Huitt took a gymnastics evening class in 1928; and my husband Ted Phillips studied Physics from 1959-1962.
"After graduation, my father worked for Battersea Borough Council until his retirement in 1974, eventually becoming the Borough's engineer and surveyor. It is thanks to him that the Battersea road nameplates now adorn the Surrey campus."
"In my second year at Battersea, 1967-68, I lived at Courland Grove, a hall of residence in Wandsworth (13 floors plus sub-basement and basement).
"Dr Clarke was the warden at Courland Grove, and the official rule was that students could not have overnight visitors. However, the lift went down as far as the sub-basement where there were no doors and you could easily slip in late at night without anyone seeing. At Ralph West Hall of residence, it was rumoured that the warden crept around the corridors at night listening at doors for mixed sex conversations. Since Dr Clarke had his girlfriend to stay over, we thought that the privilege should be extended to students too. The unofficial rule was, as far as I remember, "Don't try and bring your guests down to breakfast", so it was breakfast for one, and a roll and butter, part of the breakfast menu, for the guest.
"Dr Clarke tried to recreate an old style hall, although the building was very modern. He liked the idea of the evening meal being served at table to students all together. Most students had their meal cafeteria-style but a select group of about 30 would sign up every weekday night for a sit down meal together after the main service. There were advantages in that portions were more generous and we had attractive young waitresses, and Mario, a young Spanish waiter. We got to know our fellow students pretty well; for myself, one girl in particular, who I am still happily married to.
"At the end of each term many residents of Courland Grove would sign up for the Hall Dinner. At Christmas, a large tree was decorated in the bar/lounge and Mario would pour out preprandial sherries. He was rather generous with top-ups and I can remember struggling to descend the stairs to the refectory without falling over. After the dinner the refectory would be cleared of tables for a dance with a band or disco."
I enrolled at Battersea in September 1967 on the Human and Physical Sciences course. Having been awarded a BSc Hons in 1970, I registered for a PhD in Sociology but had to change the subject after a few months when I discovered somebody was working on the same topic. During this time my mother became terminally ill and I cared for her. I was given an ultimatum to complete by end September 1975 or my degree would be demoted to an MPhil. She died on Oct 5th 1975, and I was eventually awarded the MPhil in 1976 and was told it was PhD standard.
It was the breadth of the degree attracted me to study at Battersea. Lecturers were drawn from the Department of Humanities and Social Sciences - Sociology, Philosophy, Psychology, Statistics, Mathematics, Chemical Physics, Physics and Materials Technology. We shared lectures with a wide variety of degree courses and had dedicated seminars, tutorials and practicals.  I was strong in the social sciences, which really captured my interest, whereas my science practicals always seemed to suffer from equipment failure so I had trouble bonding with those subjects.
During our studies, we were required to undertake 6 weeks of work in an industrial setting and write it up. I had a job in a printing firm, Billings, in Guildford. It helped to keep me grounded and apply some of the industrial theory.
I managed on my grant. In 1967-69 my digs were behind Oxford Circus. I had a bedsit in a home for young women opposite All Saints Margaret Street. It cost me 5 Guineas a week including breakfast and evening meal.  Living a stone's throw from Carnaby Street, I mixed with people who were at Guildhall Drama School, Royal Academy of Music, London University and London College of Fashion. I travelled by bus to Battersea. We got free or cheap preview tickets to plays and shows. A group of us from the university used to take tea at a different venue on Wednesday afternoons - the Cutty Sark, London Tea Centre, Twinings, the Green Cafe, and the ICA.
As per the fashion at the time, I wore very short knitted and crocheted dresses, crushed velvet gold trousers, miniskirts, long suede boots and, of course, the ubiquitous black trousers. Obviously, long hair was de riguer.
The first thing I remember from when I arrived at Battersea was the smell of the men's toilets and the bar on either side of the main entrance. There were thousands of men and very few women!  My favourite building though was the wood-panelled library with its gallery, ladders and inkwells.
Whilst some of the staff members who have stayed in my mind are Prof Tropp (Sociology) who brought a keen mind and rigour to the degree, Professor Elton (Nuclear Physics and Education Technology) who conveyed energy and erudition and John Heron, an insightful philosopher, my stand out memory is doing summer research in my breaks. I would go to the lecture theatre which had a large screen tv (about 30") and watch the first moon landing. I think some of the overseas students virtually lived in there. Also, getting in a queue to use the computer which was housed in a huge floor of one of the buildings, with reams of printouts.
I sang in the choir next to the only male alto, who had perfect pitch. We sang in the Cathedral and at Queen Elizabeth Hall among other places. I took advantage of golf lessons at Guildford Golf Club, and as a postgrad, I played in the staff badminton club, sometimes in matches. I also played squash, tennis and trampolining with other postgrads. Occasionally we went sailing at Frensham Pond.
After 1969 I lived at my family home in Guildford. I remember at Guildford the smorgasbord craze. The two pubs opposite the university in Battersea, the Grove and the Eagle had good food, particularly the massive Eagle quiche from which you could buy a slice. The Green Cafe did English Breakfasts.
I tended to write my essays at weekends. I would walk to Regents Park to take a boat out or play tennis or go to Speakers Corner where all opinions were expressed. The shops were not open on Sundays.  I remember the streets being deserted. Sometimes I would take the university shuttle bus to Guildford to spend the weekend with my family. I took on research jobs in the summer break.
In those days there were quite a few people from the Middle East and many from Singapore and Malaysia. There were several from Mauritius and some Spanish speakers. The SE Asians played badminton well and participated fully in matches and the social side of the game.
Graduation was held in Guildford Cathedral. My first was a windy occasion outside the Cathedral, but I did not go to my second one.
During my time at Battersea, I developed a problem-solving approach. Well researched arguments helped my advocacy to decision-makers. I was a woman in a male world.
I went on to work with engineers at British Waterways, doing their recreation research as we opened up the canal system for leisure use. Then to the Sports Council where we were developing the country's sport and recreation infrastructure. This meant dealing with politicians, engineers, architects, planners and people in voluntary organisations concerned with countryside recreation and sport. I would help them make the case for their projects, plan and design them and then set up appropriate funding and management regimes. We also trained people in sports administration and coaching. Later, I was Head of Policy. My team included the secretariat, produced the strategies, corporate plans and liaised with government and politicians. This included making the case for the National Lottery.
Post-retirement I helped develop sports administration in Africa, particularly Zimbabwe and Botswana.
Battersea photos
Alongside our photos of life at Battersea, we also have a gallery of pictures taken at Battersea events. You can view a wide selection of our Battersea historical and reunion photos on our Flickr albums below:
Get in touch
If you would like to share your memories and photographs or would like more information on any of our Battersea activities, please contact us at alumni@surrey.ac.uk or telephone +44 (0)1483 683143.