Team
Our team brings together a vast range of expertise in theoretical and experimental physics, mathematics, computational chemistry and molecular biology – both at Surrey and at our partner institutions.
Members
Principal investigators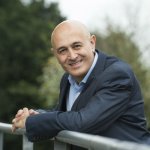 Biography
Jim Al-Khalili OBE FRS is a theoretical physicist at the University of Surrey where he holds a Distinguished Chair in physics as well as a university chair in the public engagement in science. He received his PhD in theoretical nuclear physics from Surrey in 1989 and then spent two years as an SERC Postdoctoral Research Fellow at University College London before returning to Surrey in 1991. He was appointed lecturer in 1992 and, in 1994, was awarded an EPSRC Advanced Research Fellowship for five years during which time he established himself as a world leading authority on nuclear reaction theory of light exotic nuclei, publishing widely. Following this he reverted to a full-time lectureship in the Department at Surrey. He was elected Fellow of the Institute of Physics in 2000 and promoted to Senior Lecturer in 2001. He was promoted to professor of physics in 2005. He has published over a hundred papers in nuclear physics, quantum mechanics and quantum biology and has supervised 19 PhD students.
Jim is also a prominent author and broadcaster. He has written 14 books on popular science and the history of science, between them translated into twenty-six languages. His latest book, The World According to Physics, was shortlisted for the Royal Society Book Prize. He is a regular presenter of TV science documentaries, such as the Bafta nominated Chemistry: a volatile history, and he hosts the long-running weekly BBC Radio 4 programme, The Life Scientific.
Despite his profile as a public scientist, Jim has continued to teach undergraduate physics students in an unbroken run of 30 years since 1992. He is also still research active, with five current PhD students working on different aspects of quantum mechanics and open quantum systems and is co-director of the Leverhulme Doctoral Training Centre for Quantum Biology and Director of the Quantum Foundations Centre at Surrey. He is also Principle Investigator on a research project on the Quantum Arrow of Time.
Jim is a past president of the British Science Association and a recipient of the Royal Society's Michael Faraday medal and the Wilkins-Bernal-Medawar Medal, the Institute of Physics Kelvin Medal and the Stephen Hawking Medal for Science Communication. He received an OBE in 2007 for 'services to science'.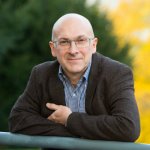 Biography
Andrea Rocco graduated in Physics at the University of Pisa (Italy) in 1994, discussing a thesis in quantum field theory. In 1998 he obtained his PhD in Physics from the University of North Texas (USA), where he focused on the role of stochastic processes in classical and quantum mechanical systems.
Between 1998 and 2007 Andrea held postdoctoral positions at the University of Barcelona (Spain), the University of Rome "La Sapienza" (Italy), CWI (The Netherlands), and the University of Oxford (UK). During this period of time, his research spanned several areas, from the general fields of statistical mechanics and pattern formation to the modelling of biological systems. In 2007 he obtained a Lectureship in Applied Mathematics at the University of Bath (UK), where he taught mathematical biology modules at both MSc and undergraduate levels.
In 2009 Andrea joined the University of Surrey (UK), where he is now Associate Professor (Reader) in Physics and Mathematical Biology, with a shared appointment between the Department of Microbial Sciences and the Department of Physics.
University of Surrey co-investigators
External co-investigators