Chemical and Petroleum Engineering BEng (Hons) or MEng – 2021 entry
Why choose this course
Combining exceptional facilities with research-led teaching, our BEng and MEng Chemical and Petroleum Engineering courses will prepare you for a fulfilling career in the oil and gas or petrochemical industries.
Surrey is one of the few universities in the world offering you the chance to experience the complete chemical engineering process.
Our new £1.7m chemical engineering facility and process plant allows you to use the kind of state-of-the-art equipment you'll find in industry.
What you will study
Our BEng and MEng Chemical and Petroleum Engineering courses combine core chemical engineering principles with specialist modules, design projects, equipment design and research projects relating to energy and petrochemicals.
Taught by prize-winning academics and experienced former industrialists, you'll gain practical experience working on a small chemicals plant in our newly-refurbished laboratory facilities. This will help prepare you for a wide range of fulfilling careers in the global energy sector.
You can apply to study for either a BEng or MEng (Master of Engineering). The MEng builds on the BEng course with a masters year and is a direct route to a masters qualification.
You may have the option to switch to a BEng or MEng during your studies. Find out more about the benefits of an integrated masters degree.
Facilities
We're one of the very few chemical engineering departments in the world that can give you the chance to experience the complete chemical engineering process rather than just pilot scale individual operations such as distillation.
In your third year, you'll be able to carry out a realistic exercise in operating the process and take responsibility for factors such as safety, profitability and environmental impact.
Other laboratory experiments include a centrifugal pump test, a heat exchanger and the multiple stirred-tank chemical reactor experiment. You also receive 24-­hour access to our computer rooms.
Personal and professional skills
We recognise that in order for chemical engineers to perform to the highest level, they need a wide range of skills in addition to technical proficiency. We also recognise that experience is the main driving force in development of these skills.
Chemical engineers often work in teams to solve problems, they adopt leadership roles and are required to be effective communicators. Our Personal and Professional Skills programme is designed to give you a head start in developing your skills in these areas.
Employers will see the personal development skills which our courses provide as giving you 'something extra', in addition to your technical competence.
Prizes
In addition to general University scholarships and bursaries, our extensive contacts in industry have resulted in prizes being awarded to undergraduates by Atkins, Halliburton KBR, Air Products, UOP, IChemE and the Worshipful Company of Engineers.
Professional recognition
BEng (Hons) - Institution of Chemical Engineers (IChemE)
Accredited by the Institution of Chemical Engineers (IChemE) on behalf of the Engineering Council for the purposes of fully meeting the academic requirement for registration as an Incorporated Engineer and partially meeting the academic requirement for registration as a Chartered Engineer.
MEng - Institution of Chemical Engineers (IChemE)
Accredited by the Institution of Chemical Engineers (IChemE) for the purpose of fully meeting the educational requirement for Chartered Chemical Engineer.
Careers and graduate prospects
Chemical engineers work across a range of sectors in the UK and internationally, and are increasingly sought by speciality chemical industries that manufacture high value-added products.
On average, chemical engineers earn more than any other engineering discipline and graduates are consistently paid more than chemists and other scientists. The high salaries reflect the level of responsibility and importance which chemical engineering graduates quickly attain.
At Surrey, our excellent graduate employment record demonstrates the strength of our courses and Professional Training placements in preparing you for industry.
Our Personal and Professional Skills programme is undoubtedly another factor in the exceptional employment record of our graduates.
Demand for graduates in the oil and gas sectors and petrochemicals is expected to remain strong. New developments in the sector include:
Marginal reservoirs, especially gas
Adaption of refineries to use more of the barrel as petrochemical feedstock
Decommissioning of exhausted offshore facilities
LNG projects
New feedstocks for petrochemical plants.
We've worked closely with industrial organisations to design these courses around their needs, and to ensure that there will be excellent opportunities available to you upon graduation.
Recent graduates have entered employment in roles such as:
Associate Process Engineer, Fluor Corporation
Chemical Engineer, Saudi Aramco
Utilities Shift Supervisor, Qatar Petroleum.
Accreditation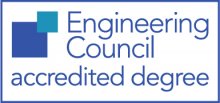 Academic year structure
The academic year is divided into two semesters of 15 weeks each. Each semester consists of a period of teaching, revision/directed learning and assessment.
Modules
Modules listed are indicative, reflecting the information available at the time of publication. Please note that modules may be subject to teaching availability, student demand and/or class size caps.
Important: In light of the Covid-19 pandemic the University has revised its courses to incorporate the 'Hybrid Learning Experience' in a departure from previous academic years and previously published information. The University has changed the delivery (and in some cases the content) of its programmes. Further information on the general principles of hybrid learning can be found at: Hybrid learning experience | University of Surrey.
We have updated key module information regarding the pattern of assessment and overall student workload to inform student module choices. We are currently working on bringing remaining published information up to date to reflect current practice in time for the start of the academic year 2021/22. This means that some information within the programme and module catalogue will be subject to change. Current students are invited to contact their Programme Leader or Academic Hive with any questions relating to the information available. 
The University operates a credit framework for all taught programmes based on a 15-credit tariff. Modules can be either 15, 30, 45 or 60, 75 and 120 credits, and additionally for some masters dissertations, 90 credits.
Please note: If there is an optional Professional Training placement as part of your course you can view the full module listing for this on the relevant programme specification.
The structure of our programmes follows clear educational aims that are tailored to each programme. These are all outlined in the programme specifications which include further details such as the learning outcomes:
Timetables
Course timetables are normally available one month before the start of the semester. Please note that while we make every effort to ensure that timetables are as student-friendly as possible, scheduled teaching can take place on any day of the week (Monday–Friday). Wednesday afternoons are normally reserved for sports and cultural activities. View our Timetabling Policy (PDF).
Teaching
Teaching involves conventional lectures combined with coursework, tutorials, case studies, projects, practical and discussion classes.
Methods of teaching and assessment in the early stages of the course aim to ensure you gain the relevant knowledge and techniques, including practice in finding information and deciding whether it is relevant.
The methods adopted in Years 3 and 4 (MEng) are influenced by the need to broaden and deepen the knowledge you've gained in previous years, developing the higher order skills you'll need as a professional engineer.
Our chemical engineering courses will equip you with problem-solving, analytical and other transferable skills, enabling you to succeed in whatever career you pursue. You'll also learn to assess business proposals which require capital investment but bring long-term profits.
There may be occasions when the delivery of your teaching is supported by graduate teaching assistants. The University has a set of procedures that govern the use of postgraduate research students in this way.
Assessment
We assess modules individually and award credits for the successful completion of each one. Assessment takes place through a combination of examination and/or coursework, practical examinations and reports.
Check individual module information to see full details at a module level.
Contact hours
Contact hours can vary across our modules. Full details of the contact hours for each module are available from the University of Surrey's module catalogue. See the modules section for more information.
Entry requirements
Do I meet the requirements for this course?
We require you to submit a full application so that we can formally assess whether you meet the criteria published. Unfortunately, we are unable to provide an outcome based on an enquiry (via email, webform enquiry, phone or live chat).
Other international qualifications
If you are an international student and you don't meet the entry requirements to this degree, we offer the International Foundation Year, run by the Surrey International Study Centre.
English language requirements
IELTS Academic: 6.0 overall with 5.5 in each element.
Selection process
We normally make offers in terms of grades.
If you are a suitable candidate you will be invited to an Applicant Day. During your visit to the University you can find out more about the course and meet staff and students.
Foundation
If you don't meet our entry requirements, you might still be able to apply for this course with a foundation year. A course with a foundation year includes an extra year of study to prepare you for a full degree course. Find out more about our degrees with foundation year.
Recognition of prior learning
The University of Surrey recognises that many students enter their higher education course with valuable knowledge and skills developed through a range of professional, vocational and community contexts. If this applies to you, a process called recognition of prior learning (RPL) may allow you to enter your course at a point appropriate to your previous learning and experience, or to join the start of a course without the formal entry requirements. This means that you may be exempt from certain elements of study in the course for which you have applied and be awarded credit based on your previous qualifications/experience. There are restrictions on RPL for some courses and fees may be payable for certain claims. 
Please see the code of practice for recognition of prior learning and prior credit: taught programmes (PDF) for further information. Please contact Admissions on +44 (0)1483 682222 with any queries.
Fees
The annual tuition fees for courses starting in October 2021
BEng (Hons)
UK £9,250
Overseas £22,400
BEng (Hons) (with professional training year)
UK £9,250
Overseas £22,400
Professional training £1,850
BEng (Hons) (with foundation year)
UK £9,250
MEng
UK £9,250
Overseas £22,400
MEng (with professional training year)
UK £9,250
Overseas £22,400
Professional training £1,850
BEng (Hons) (with foundation and professional training year)
UK £9,250
Professional training £1,850
View a complete listing of all ongoing fees for our undergraduate courses.
Fees for UK students: The University will apply annual regulated increases in the fee rates as set by Government each year, in order to maintain the same value in real terms. 
Fees for EU students: The UK is now no longer part of the EU, we are awaiting further instruction from the UK government and we will publish this as soon as it is provided. Find out more information about Studying in the UK and the Scholarships for EU students.
Fees for international students: Annual fees will increase by 4% for each subsequent year of study, rounded up to the nearest £100, subject to any overriding applicable legislative requirements. 
Fees for international students with an integrated foundation year: The programme fee for Year 0 will match the lowest Year 1 overseas fee rate from across the substantive programmes for that year of entry. Students subsequently progressing into Year 1 will be liable for the same fee as overseas students joining at Year 1 for the same programme in that year. Annual fees after Year 1 will increase by 4% for each subsequent year of study, rounded up to the nearest £100, subject to any overriding applicable legislative requirements. 
The University will assess your fee status. If you are unsure whether you are likely to be considered a home, EU or overseas student for fees purposes, the UKCISA website offers more information.
Payment schedule
Students in receipt of a Tuition Fee Loan: will have their fees paid by the Student Loans Company in line with their schedule.
International students, or UK/EU students who have not taken out a Tuition Fee Loan: are required to pay their fees either in full at the beginning of the programme or in two instalments as follows:

50% payable 10 days after the invoice date (expected to be early October of each academic year)
50% in January of the same academic year.
The exact date(s) will be detailed on invoices. Students on certain part-time programmes, where fees are paid on a modular or stage basis, are not eligible to pay their fees by instalment.
If you are sponsored: you will provide us with valid sponsorship information that covers the period of your study.
Professional Training placement fees
If you are studying on a programme which contains a Professional Training placement year there will be a reduced fee for the academic year in which you undertake your placement. This is normally confirmed 12 to 18 months in advance, or once Government policy is determined.
See the information about 2020/21 academic year Professional Training placement fee.
Additional costs
There are associated costs with this BSc (Hons) course:
Books/stationery/admin: £10
Safety equipment and/or uniform: £10 – PPE equipment
Grand total: £20
There are associated costs with this MEng (Hons) course:
Books/stationery/admin: £10
Safety equipment and/or uniform: £10 – PPE equipment
Grand total: £20
Scholarships and bursaries
---
We're committed to making sure that we offer support for students who might need it.
Placements
You have the option to complete a Professional Training placement as part of this course. This will give you the opportunity to develop your professional, academic and personal potential, helping to prepare you for your future career.
A significant proportion of placement students at Surrey are offered graduate-level jobs or go onto postgraduate study.
Find out more about Professional Training placements and discover how these have transformed our students' lives and career choices.
Chemical and Petroleum Engineering placements
Many of our students choose to take a Professional Training placement, which helps give you a head start in your future career. Companies that have participated in our scheme include:
Crondall Energy
Det Norsk Veritas
EDF Energy
ExxonMobil
Fluor Corporation
GlaxoSmithKline
Grace.
Applying for placements
You can apply for numerous opportunities via an open and free-to-all process. Placement providers use their own recruitment and selection procedures and the majority of students will secure their placement in this way.
Students are generally not placed by the University, however we offer support and guidance throughout the process alongside access to a vacancy portal representing thousands of placement opportunities each year. We also provide support if you wish to source your own placement.
Find out about more about the application process.
Please be aware there may be travel costs incurred when attending interviews and assessment centres at the placement provider's premises.
Study and work abroad
We give our students the opportunity to acquire international experience during their studies by taking advantage of our exchange agreements with overseas universities or by completing a Professional Training placement abroad.
Want to study at an overseas institution as part of your degree or work abroad during your Professional Training year? Perhaps you would like to volunteer in India or learn about Brazilian business and culture in São Paulo during your summer holidays? With more than 200 partnerships, from 50 different countries worldwide, there is something for everyone.
Not only is the opportunity to go abroad a hugely enjoyable experience, you will develop key skills and knowledge that will strengthen your CV and increase your employability.
View our study and work abroad exchange information to find out more and see where you can go.
The international exchange programme offers you the opportunity to study abroad at a partner university for either one semester or a full academic year as part of their course.
For BEng and MEng Chemical and Petroleum Engineering students, this is possible in your second year at one of our partner institutions:
North Carolina State University, US
Texas Tech University, US
University of Cincinnati, US
Swinburne University of Technology, Australia
University of Queensland, Australia
University of Sydney, Australia
Seoul National University, South Korea
University of Malaya, Malaysia
Victoria University of Wellington, New Zealand
Nanyang Technological University, Singapore.
Studying abroad also enables you to become more independent, teaching you how to adapt and adjust to the culture and climate of another country.
Students have worked at Grace in Germany, Oiltech Engineering in Sri Lanka, Avery Dennison in the Netherlands and Bidco Africa in Kenya.
Terms and conditions
When you accept an offer of a place at the University of Surrey, you are agreeing to comply with our policies and procedures, the student regulations , and our terms and conditions. These terms and conditions are provided in two stages: first when we make an offer and second when students who have accepted their offers register to study at the University. View an example of our offer terms and conditions and our registration terms and conditions (PDF) from the 2020/2021 academic year as a guide as to what to expect.
Please note: our offer terms and conditions will generally be available in the September of the calendar year prior to the year in which you begin your studies. Our registration terms and conditions will vary to take into account specifics of your course and changes for the specific academic year.
Disclaimer
This online prospectus has been prepared and published in advance of the academic year to which it applies. The University of Surrey has used its reasonable efforts to ensure that the information is accurate at the time of publishing, but changes (for example to course content or additional costs) may occur given the interval between publishing and commencement of the course. It is therefore very important to check this website for any updates before you apply for a course with us and before you accept an offer. Read more.
In particular we wish to draw your intention to the following matters affecting the academic year 2021/2022:
Covid-19 - In light of the COVID-19 pandemic, the University has had to change the delivery (and in some cases the content) of its programmes, together with certain University services and facilities for the 2020/2021 academic year. These changes include the implementation of a hybrid teaching approach, details of which can be found here [link]. It is anticipated that these programme changes and the hybrid learning approach will be adopted throughout the academic year 2021/2022, however, given the changing nature of the pandemic, this is being kept under continuous review. Detailed information on all changes as a result of the COVID-19 pandemic is available at the coronavirus course changes page. The linked pages set out information relating to general University changes and will also direct you to consider additional information relating to specific programmes.
Brexit - The UK is now no longer part of the EU. We are awaiting further information and instruction from the UK government and we will publish this as soon as it is provided. EU students applying for programmes in the academic year 2021/2022 and students applying for courses with placements abroad should visit our dedicated webpages for the latest information on how the UK's departure from the EU will affect their courses.
Campus location
Stag Hill
Stag Hill is the University's main campus and where the majority of our courses are taught.
Placement location
As part of this course you have the option to complete a Professional Training placement which would require attendance off campus, depending on where you secure your placement.
Address
University of Surrey
Guildford
Surrey GU2 7XH