Early Recording Association members
Early Recordings Association was founded by Dr. Inja Stanović (University of Surrey) and Dr. Eva Moreda Rodríguez (University of Glasgow), in order to provide an international platform for communication between researchers and early recordings enthusiasts. Membership is free and members can use the platform to promote their own research interests, discover the interests of others via a searchable directory, and form connections with others in the field. 
Directory of members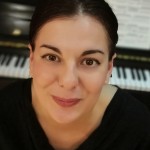 Researcher
Dr Inja Stanovic
Surrey Future Senior Fellow, Guildford, England
Research interests
Performance practice
Historical sounds recordings
Mechanical recording technologies Research
Dr Eva Moreda Rodríguez
University of Glasgow, Scotland
Research interests
Early history of recording technologies (incl. their cultural/social history and their use as documents for historical performance practice)
The music of the Franco regime and of the Spanish Republican exile
Music and fascism/totalitarianism
Singing, (art) song, vocal performance practice, vocality (particularly in the Middle Ages and at the turn of the 20th century)
Digital mapping
Digital Musicology
The history and practice of music criticism
Music and literature, music and text, hybrid genres of writing about music (outside the university, I am a published fiction author in the Galician language). Researcher
Joanna Staruch-Smolec
Université libre de Bruxelles, Belgium
Research interests
Eugène Ysaye
19th century violin practice 
Franco-belgian school
Acoustic recordings
Portamento, rubato, vibrato Researcher
Ferenc János Szabó
Institute for Musicology, Budapest, Hungary
Research interests
Discography
History of the recording industry
History of musical interpretation and performance practice
Musicology
Media archaeology

Join the Early Recordings Association
Fill in our web form to become a member of the Early Recordings Association and promote your research interests. Membership is free of charge and open to students, researchers, collectors, and enthusiasts.