Religion and belief
Under the Equality Act 2010 religion and belief is a protected characteristic, where:
Religion means any religion and includes a reference to a lack of religion
Belief means any religious or philosophical belief and includes a reference to a lack of belief.
Our community consists of individuals from very varied religious backgrounds as well as individuals who have different beliefs and non-beliefs. 
We are committed to accommodating where possible the individual needs that arise as a consequence of an individual's religion, belief or non-belief. Provision of prayer spaces, catering for different diets, and accommodating leave requests are just a few examples of ways that the University accommodates differences on the basis of religion, belief, and non–belief.
We have a Multi-Faith Chaplaincy with Anglican, Buddhist, Catholic, Greek Orthodox, Jewish, Methodist/URC, Muslim and Sikh Chaplains available for both students and staff. You can contact them directly - details on their respective web pages.
The Quiet Centre is available as a multi-faith, quiet environment for individuals and groups, primarily for prayer, worship, meditation and contemplation. There is also a dedicated Islamic Prayer Centre for Muslim daily prayers in the basement of Thomas Telford (AA) building. Friday prayers are usually held in University Hall (Oak House Hall). Wudu washing facilities are available in the IPC and the Quiet Centre. The common room JB01-10 in Manor Park is available for multi-faith prayers, quiet study and meetings.
Faith Forum
The Faith Forum affirms the reality of the existence of religious faith on campus, amongst students and staff, and the desire for faith communities and individual people of faith to have a voice within the University.
It performs two key functions:
1. to enable staff and students to discuss matters connected to their faith and belief. Some of those issues may need consideration by the Equality and Diversity Committee if they demand the attention of the University, especially where discrimination is perceived to exist.
2. the Forum will be used by the University, through the Equality and Diversity Committee, as a place where matters that concern the University as an organisation can be discussed and responded to.
The Forum is open to students and staff from a wide a range of faith communities. The intention is that the Forum will work between faiths and will be an exemplar of multi-faith engagement and dialogue.
Religion and Belief Climate Survey
If you want to find out more aboute our study of the campus climate for religious and non-religious staff and students at the University of Surrey (2016), please get in touch with us.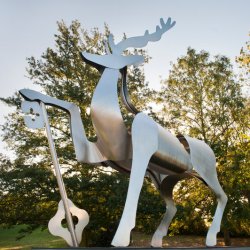 "University is about growing in body, mind and...spirit."
The Revd Canon Dr Andrew Bishop