6:30pm - 8pm
Wednesday 27 March 2019
A celebration of women in astronomy
In the first of two Adams-Sweeting lectures in 2019, renowned astrophysicist Dame Jocelyn Bell Burnell took us on a celebratory journey through the careers of some well-known female astronomers.
Rik Medlik Building
Ground Floor
University of Surrey
Guildford
Surrey
GU2 7XH
Speaker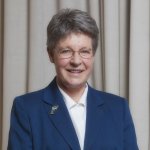 Keynote
Dame Jocelyn Bell Burnell
Biography
Jocelyn Bell Burnell is an astrophysicist, best known for her discovery of pulsars — rotating neutron stars that appear to 'pulse' since the beam of light they emit can only be seen when it faces the Earth. Her observation, made together with her supervisor, Antony Hewish, is considered to be one of the greatest astronomical discoveries of the twentieth century.
In 1967, Jocelyn made her discovery using a telescope that she and Antony had originally built to study the recently detected star-like quasars. She noted a signal that pulsed once every second — 'Little Green Man 1' — that was later determined to be a pulsar.
Jocelyn has since become a role model for young students and female scientists throughout the world. She was appointed to CBE for services to astronomy in 1999, followed by a DBE in 2007. Her story was featured in the BBC Four's Beautiful Minds, and BBC Two's Horizon documented her discovery of 'Little Green Man 1'.
About the lecture
When trying to understand women's progress, or lack of progress, in research and academia, society is often quick to blame women themselves, particularly when it comes to male-dominated subjects like astronomy. However, data studies have shown how culture and history may have had an influence.
Renowned astrophysicist Dame Jocelyn Bell Burnell took us on a celebratory journey through the careers of some well-known female astronomers, exploring the lives and discoveries of these pioneering women, before moving on to review the position of women in physics and astronomy today powered by the latest global statistics surrounding astronomy's gender gap.
From why there's a shortage of women in these fields, to how we can use this information to move forward, Dame Jocelyn shed light on the challenges of today's perception of female scientists both in academia and in wider society.
Hosted by Professor Jim Al-Khalili
Jim Al-Khalili is a well-known science communicator, author and broadcaster. He has written eleven popular science books, between them translated into 26 languages. He is a regular presenter of TV science documentaries, including the Bafta nominated BBC series, Chemistry: A Volatile History. But he is probably best known as presenter of the weekly BBC Radio 4 programme, The Life Scientific.
Watch the full lecture
About the series

The Adams-Sweeting Lecture series was created in honour of two of the University of Surrey's most prestigious academics – Distinguished Professor of Physics, Alf Adams and Distinguished Professor of Space Engineering, Sir Martin Sweeting.
The lecture sees experts, innovators and scientists deliver fascinating talks on pioneering developments in their area of expertise. Feed your intrigue, expand your mind and join us to learn about the innovations shaping the world.
Other Adams Sweeting lectures in the series include Science as Revolution with Sir Paul Nurse.
Visitor information
---
Find out how to get to the University, make your way around campus and see what you can do when you get here.