12 noon - 2pm GMT
Friday 4 March 2022
Introducing Neural Machine Translation (NMT) to Translators
Speakers
---
Should translators understand the power of the technology behind Google Translate and other providers of machine translation? We think so, and that is why we prepared this webinar as the first step in helping translators make informed decisions when working with this technology.
The volume and quality of machine translation produced today baffles anyone who has been working or wants to start working with translation. Neural machine translation (NMT) is a set of the most advanced machine learning technologies that has been yielding surprising volumes of high-quality machine translation output.
NMT uses neural network-based models to learn probabilistic models of languages, in such a way that they can be used to estimate very likely good translations of new source sentences. One of the key benefits of these approaches is to simplify the process of training MT systems. Unlike previous statistical translation systems, which consisted of many small sub-components that were tuned separately, NMT attempts to build and train a single, large neural network which will then be able to read a source sentence and output a translation for it.
In this webinar, we will explain the use of widely available programming libraries to create a customised translation engine or model using NMT. The webinar will consist of a step-by-step demonstration of the different stages of training a NMT model, with simple explanations of the terms that are used by researchers that train these systems.
The webinar will include introductory answers to questions like: What is a neural network? What are word embeddings? What does training and learning mean? How many stages are there in an NMT training process? What methods are there to improve the quality of the MT output? Why is the translation stage called decoding? There will be time for the participants to ask questions, but they are not expected to perform any hands-on work. As a follow-up to the webinar, we are preparing a short course with hands-on exercises for participants to train their own initial models.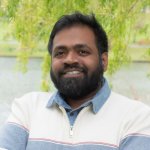 Dr Diptesh Kanojia
Lecturer in Artificial Intelligence for Natural Language Processing
Biography
Researcher working on problems intersecting the areas of Natural Language Processing (NLP) and Machine or Deep Learning (ML/DL). As a Lecturer at Surrey Institute for People-Centred AI and the Department of Computer Science in University of Surrey, I co-teach the NLP module. I am also teaching NLP at the Indian Institute of Information Technology Lucknow, as a Visiting Faculty.
The focus of my research is Machine Translation; working with Prof. Sabine Braun, Prof. ‪Constantin Orăsan, Dr. Félix do Carmo and other colleagues.
Other than that, my interests also lie in the NLP sub-areas of Cognitive NLP, Distributional and Lexical Semantics, Multimodality/Multilingualism in NLP, Sentiment/Emotion Analysis; and Teaching. I graduated with a Joint PhD from the IITB-Monash Research Academy ( IIT Bombay, India & Monash University, Australia ) in 2021; and was advised by Prof. Pushpak Bhattacharyya, Prof. Gholamreza Haffari, and Prof. Malhar Kulkarni.
Before starting my PhD, I was a Research Engineer at the CFILT Lab, IIT Bombay, India, where my investigations led to publications in diverse sub-areas of NLP and AI.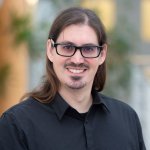 Dr Leonardo Zilio
Technical Specialist (Translation Technologies and Data)
Biography
I graduated in Translation Studies (German-Portuguese) in 2006, finished my Master Dissertation in 2009 and my Doctoral Thesis in 2015 at the Institute of Linguistics, Universidade Federal do Rio Grande do Sul (UFRGS). During this time, I also took part in a one-year doctoral stage at the Laboratoire d'Informatique de Grenoble in 2012-2013.
After my PhD, I have developed two post-doctoral researches in Natural Language Processing and in Computational Linguistics. The first one at the Institute of Informatics, UFRGS, from 2015 to 2016, and the second one at the Centre de traitement automatic du langage, Université catholique de Louvain, from 2016 to 2018.
In 2019, I enjoyed a time dedicated to translation as a freelancer in Brazil, before joining the Centre for Translation Studies, University of Surrey, at the end of the year.
Along these years, I always dedicated at least a part of the time to professional translation (English / French / German > Portuguese) and text proofing (English / Portuguese).