4pm - 5pm GMT
Wednesday 26 October - Wednesday 7 December 2022
Introduction to decoherence theory
This short course of six lectures by Jim Al-Khalili will provide an introduction to quantum decoherence and density matrix theory and will be of relevance to PhD students starting to work in open quantum systems, quantum optics, quantum information and quantum computing – or indeed for anyone interested in the foundations of quantum mechanics and the famous measurement problem.
Lecture Theatre F
University of Surrey
Guildford
Surrey
GU2 7XH
Places are now full for this event.
Overview
For generations we have taught quantum mechanics to students in terms of isolated systems (Schrödinger equation and unitary dynamics). However, isolated systems have long been an obstacle in understanding the quantum-to-classical transition. The reasons for this are clear: classical physics has led us to the strategy of dealing with idealised isolated systems and has been hugely successful. This then became incorporated into quantum mechanics without much scrutiny.
For the past few decades there has been a growing realisation that we can do better than the arbitrary Born postulates that sit on top of the Schrödinger picture. The development of decoherence theory, building on the work of von Neumann and others, has shown that the vagueness of the quantum measurement problem and the Copenhagen mantra of irreducible acts of amplification can be improved upon and replaced with the well-founded physical processes of entanglement and decoherence.
This short course will introduce some of the ideas developed by the likes of Zurek, Zeh, Paz and Joos since the 1970s, but which still find no place in undergraduate courses on quantum mechanics despite their obvious relevance in many areas of physics today, such as quantum optics, quantum information, quantum computing and new theoretical fields such as open quantum systems, quantum thermodynamics and quantum biology.
Who is this course for?
This course is appropriate for anyone with a basic (undergraduate) knowledge of quantum theory (plus familiarity with Dirac notation).
Topics to be covered
Introducing decoherence
Quantum entanglement
The Density matrix
Pure and mixed states
Quantifying 'mixedness'
Reduced density matrices
The measurement problem
The double-slit experiment revisited
Environment-induced decoherence
Pointer states
Decoherent-free subspaces
Decoherence versus dissipation
Quantum erasure
Master equations.
Speaker
All lectures will be led by: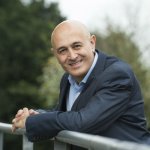 Professor Jim Al-Khalili
Distinguished Chair, Professor of Physics, Professor of Public Engagement in Science, Centre Director
Biography
Jim Al-Khalili OBE FRS is a theoretical physicist at the University of Surrey where he holds a Distinguished Chair in physics as well as a university chair in the public engagement in science. He received his PhD in theoretical nuclear physics from Surrey in 1989 and then spent two years as an SERC Postdoctoral Research Fellow at University College London before returning to Surrey in 1991. He was appointed lecturer in 1992 and, in 1994, was awarded an EPSRC Advanced Research Fellowship for five years during which time he established himself as a world leading authority on nuclear reaction theory of light exotic nuclei, publishing widely. Following this he reverted to a full-time lectureship in the Department at Surrey. He was elected Fellow of the Institute of Physics in 2000 and promoted to Senior Lecturer in 2001. He was promoted to professor of physics in 2005. He has published over a hundred papers in nuclear physics, quantum mechanics and quantum biology and has supervised 19 PhD students.
Jim is also a prominent author and broadcaster. He has written 14 books on popular science and the history of science, between them translated into twenty-six languages. His latest book, The World According to Physics, was shortlisted for the Royal Society Book Prize. He is a regular presenter of TV science documentaries, such as the Bafta nominated Chemistry: a volatile history, and he hosts the long-running weekly BBC Radio 4 programme, The Life Scientific.
Despite his profile as a public scientist, Jim has continued to teach undergraduate physics students in an unbroken run of 30 years since 1992. He is also still research active, with five current PhD students working on different aspects of quantum mechanics and open quantum systems and is co-director of the Leverhulme Doctoral Training Centre for Quantum Biology and Director of the Quantum Foundations Centre at Surrey. He is also Principle Investigator on a research project on the Quantum Arrow of Time.
Jim is a past president of the British Science Association and a recipient of the Royal Society's Michael Faraday medal and the Wilkins-Bernal-Medawar Medal, the Institute of Physics Kelvin Medal and the Stephen Hawking Medal for Science Communication. He received an OBE in 2007 for 'services to science'.
Lecture dates
All lecture dates are on a Wednesday and will run 4pm to 5pm:
Lecture 1: 26 October 2022
Lecture 2: 2 November 2022
Lecture 3: 9 November 2022
Lecture 4: 23 November 2022
Lecture 5: 30 November 2022
Lecture 6: 7 December 2022.