---
news
5 reasons to study midwifery at Surrey
Our midwifery course is ranked 5th in the UK by the Complete University Guide 2022 and 4th in the UK by The Times and The Sunday Times Good University Guide 2022. Find out how you'll develop your skills as a midwife at Surrey.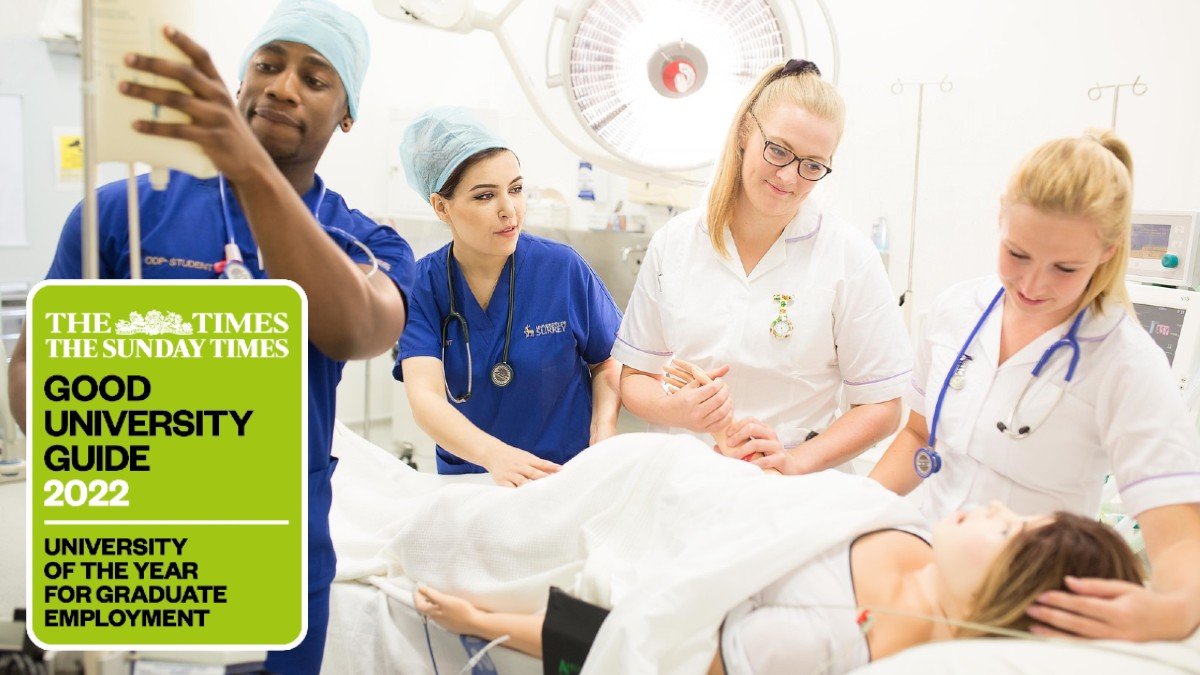 1. Develop as an autonomous midwife
On our course, you'll gain experience of caring for individual women throughout antenatal, labour and postnatal periods. You'll study topics that are fundamental to midwifery throughout your studies, including:
Concepts of caring
Physical health sciences
The politics, philosophy and practice of midwifery 
Complex midwifery care
How to effectively deal with emergencies such as breech births
Sexual and reproductive health.
At Surrey, you'll develop a responsive attitude to the needs of childbearing women and their families, reflected in your capacity to assess their needs, make judgements, and plan, implement and evaluate care. 
2. Study a 'Baby Friendly' curriculum 
Every aspect of our course is 'Baby Friendly' in conjunction with the Unicef UK Baby Friendly Initiative. This means that you'll learn all the skills and knowledge needed to apply 'Baby Friendly' principles to your role as a midwife, across various healthcare settings. 
You'll understand all the principles of breastfeeding and will support infant feeding. You'll nurture close and loving relationships, promoting good communication, while managing potential challenges to this. 
3. Gain clinical experience
Our midwifery course is 50% theory and 50% practice. You'll spend half of your training in clinical placements, allowing you to practise the skills you'll learn in the classroom out in the real world, under the supervision of qualified practitioners. Your placements will help you develop an awareness of working in the NHS, and the role of a midwife, before building up your knowledge, skills and professional abilities. 
4. Learn from practitioners
We have a clinical-led focus to our teaching, ensuring everything you learn is up-to-date and relevant to an NHS care setting. You'll be taught by a multidisciplinary team of lecturers who have a range of clinical expertise. Your lecturers may include:
Julia Boon, a midwife with over 20 years' experience 
Dr Anna Maria Brown, a midwife with over 35 years' experience, who helped set up the first validated midwifery curriculum in Iraq 
Dr Alison Callwood, a midwifery researcher who's worked in India and Malawi. 
You'll also be taught by guest lecturers, made up of local doctors, nurses, midwives and other healthcare workers.  
5. Enhance your employability
Our midwifery course is accredited by the Nursing and Midwifery Council (NMC), giving you the academic requirements needed to register to work as a midwife once you've graduated. 100% of graduates on this course go on to full-time employment or further study* and our alumni can be found working for NHS trusts across the UK.
Visit the NHS Careers website for further information about the different opportunities and specialisms within midwifery. 
Discover more about our Midwifery BSc
*Graduate Outcomes survey 2021, HESA.