---
news
Published:
20 November 2020
Celebrating our nurses and midwives: Melaine's story
Professor Melaine Coward decided to become a nurse at age 13 to fulfil her love for people, volunteering at her local cottage hospital to wash and feed patients. After qualifying, she specialised as a cancer nurse, before stepping into higher education to train the next generation of healthcare professionals. Melaine is now the Head of the School of Health Sciences, after a 20 year journey at Surrey. This is her story.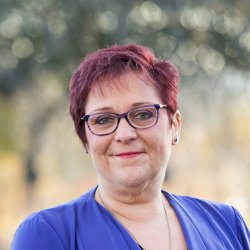 Professor Melaine Coward
"At age 13, I decided I wanted to be a nurse. I started volunteering at my local cottage hospital, feeding and washing people, and I loved it. Five years later, my parents dropped me off at King's College Hospital to start my on-the-job nurse training.
"Once I qualified, I worked on a haematology ward, caring for patients with leukaemia, lymphoma and sickle cell disease. One of these patients told me: 'You're made to be a cancer nurse, go and follow your dream Melaine' and that's exactly what I did.
"I went off to the Royal Marsden Hospital and began a three-year degree. At the time, my mum was diagnosed with advanced cancer, and I nursed her at home, giving her the best care. Sadly, she never saw me complete my degree and I think she'd be a bit shocked, albeit proud of what I've done since.
"I became a manager in a large cancer centre and helped the local university set up a cancer nursing course. 18 months later, I knew I could make a bigger difference in education, so I stepped away from clinical practice and started my first job at Surrey in 2001. Fast-forward 20 years, here I am running one of the best schools for healthcare in the country, where every day is different. I work hard, and I feel really proud to be influencing the future generations of healthcare professionals."
Read more of our nurses' and midwives' stories and share your own on Twitter using #YearoftheNurseandMidwife, tagging @UniOfSurrey.