---
news
CES founder awarded highest honour by IChemE
Professor Roland Clift, the leading thinker in industrial ecology and sustainability, has been awarded the 12th George E Davis Medal by the Institution of Chemical Engineers (IChemE).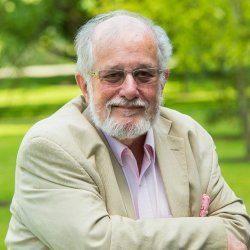 More than 100 guests assembled at the Royal Academy of Engineering in central London to see Clift recognised for his outstanding work in applying chemical engineering ideas to economic, environmental and social challenges to reduce environmental impact and improve sustainability.
Clift received the Medal after delivering the 12th George E Davis Lecture, in which he described the role of chemical engineers in delivering a resource efficient and more sustainable world.
Clift urged chemical engineers to find new ways to approach problems in sustainability, with the clear aim of passing planet earth to future generations in a "decent condition". Much of the blame for the world's travails was pinned firmly on the short-term thinking of economists, who Clift asserted had scant comprehension of the thermodynamic laws that are hard-wired into the universe.
"Imagine a world where everything is made to last" was Clift's closing observation, before urging the audience to "Wake up" and consider the fate of their grandchildren.
The George E Davis Medal is the highest honour awarded by IChemE. It is presented to individuals for a significant contribution to the chemical engineering. Take a look at the history of the George E Davis Medal.
Roland Clift, Professor Emeritus at the University of Surrey, said:
"I was genuinely surprised to be awarded the George E Davis Medal, and honoured that the Institution values my work. This has been a superb celebration with friends, colleagues and, most importantly, with many of former students who will build on my thinking in the future."
Jon Prichard, Chief Executive at IChemE, said:
"Roland has demonstrated real dedication to the principles and practice of sustainably in chemical engineering.  He has inspired successive generations with his provocative descriptions of a systems based approach to environmental problems. He has challenged engineers, organisations, and governments, with his thought-provoking ideas for future-proofing our planet."
Clift's Lecture was streamed live at the Royal Academy of Engineering in London on Thursday 6 July. It is now available to watch on IChemE's Facebook page.