---
press release
Published:
24 February 2021
Europe's first stand-alone 5G network developed at the University of Surrey
The University of Surrey has announced Europe's first 5G stand-alone (5GSA), end-to-end technology, allowing 5G capable mobile phones to achieve download speeds of 1GB per second.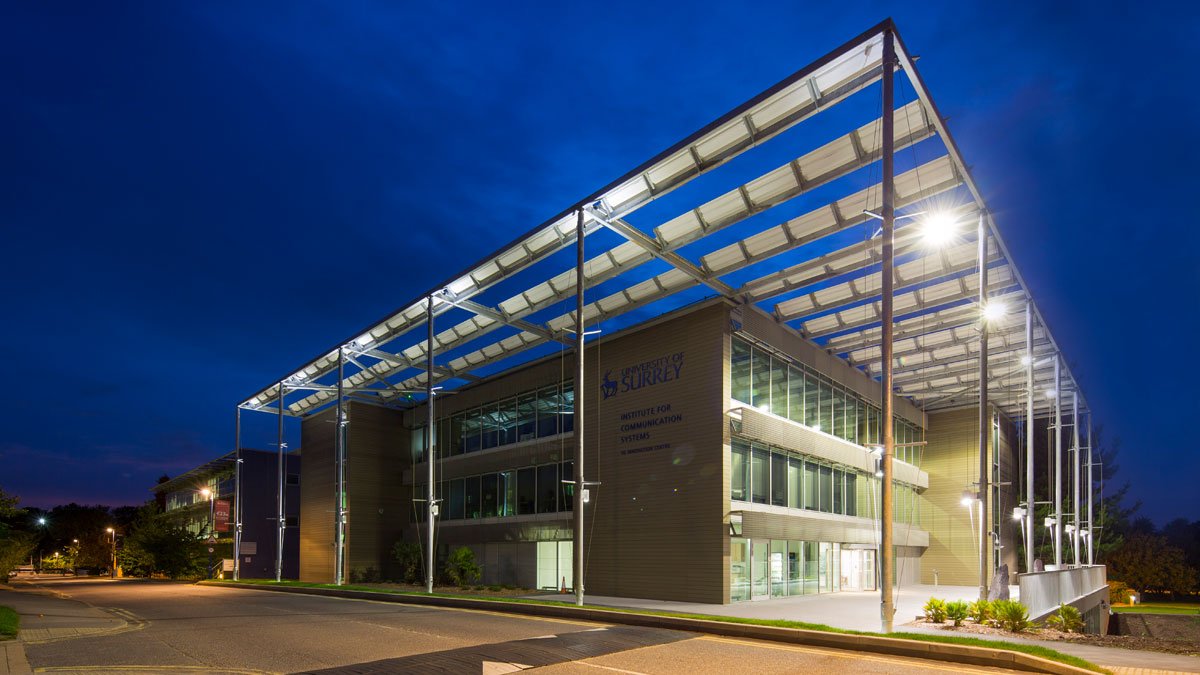 The current 5G deployment is in the form of non-stand-alone, which uses 5G New Radio (5GNR) complemented with 4G radio and 4G core.
To develop this ground-breaking 5GSA, Surrey's 5G Innovation Centre (5GIC) used the Massive MIMO 64x64 5GNR at 3.5GHz spectrum with 100MHz bandwidth present around its campus and, critically, its own 5G Core that was wholly built in the UK by 5GIC researchers. The Surrey team then used a commercially available 5G capable mobile phone to test the end-to-end performance of its 5GSA.
This means that – with the use of Surrey's 5G Core technology – most 5G enabled phones can download ultra-high-definition video content in seconds. The stand-alone network could also be a game-changer for high-definition real-time video game services, allowing people to play their favourite AAA titles on the move.
Regius Professor Rahim Tafazolli, Founding Director of the 5G and 6G Innovation Centre at the University of Surrey, said: "This is a landmark moment for 5G and our world-leading research team, illustrating that the UK's knowledge, expertise and capabilities are pivotal to ensuring that the promise of 5G is fully realised with technologies developed in the UK. This test once again demonstrates that our 5G Core is 100 per cent 3GPP standard-compliant and is a high performing solution.
"We are in the process of developing commercial offerings of all of our 5G technologies and, with our newly launched 6G Innovation Centre, we believe the UK will also be a world leader in 6G when the technology comes to market in 2030."
Yogaratnam Rahulan, Chief Architect at the 5G and 6G Innovation Centre at the University of Surrey, said: "This is a real breakthrough for our in-house built 5G mobile core network, which is compliant to 3GPP Release 15 and Release 16 standards. Our state-of-the-art core is a fully virtualised solution that can be used on any cloud-native platforms. It is also capable of network slicing, and our 5G Core was previously tested with GEO and vLEO satellite communications systems.
"We are developing a lightweight Network Operation Centre (NoC) to support dynamic, automated network management, control and slicing. We plan to again demonstrate the end-to-end 5G stand-alone with our own OpenRAN implementation later in the year."
Featured Academics
---
Media Contacts
---
External Communications and PR team
Phone: +44 (0)1483 684380 / 688914 / 684378
Email: mediarelations@surrey.ac.uk
Out of hours: +44 (0)7773 479911