---
press release
Published:
29 November 2022
Guildford and Surrey residents invited to explore University's research though new open-access, hands-on installations
Sharing knowledge and engaging with the citizens of Surrey is as important to the University of Surrey as its global partnerships, says its sustainability chief, Professor Bob Nichol.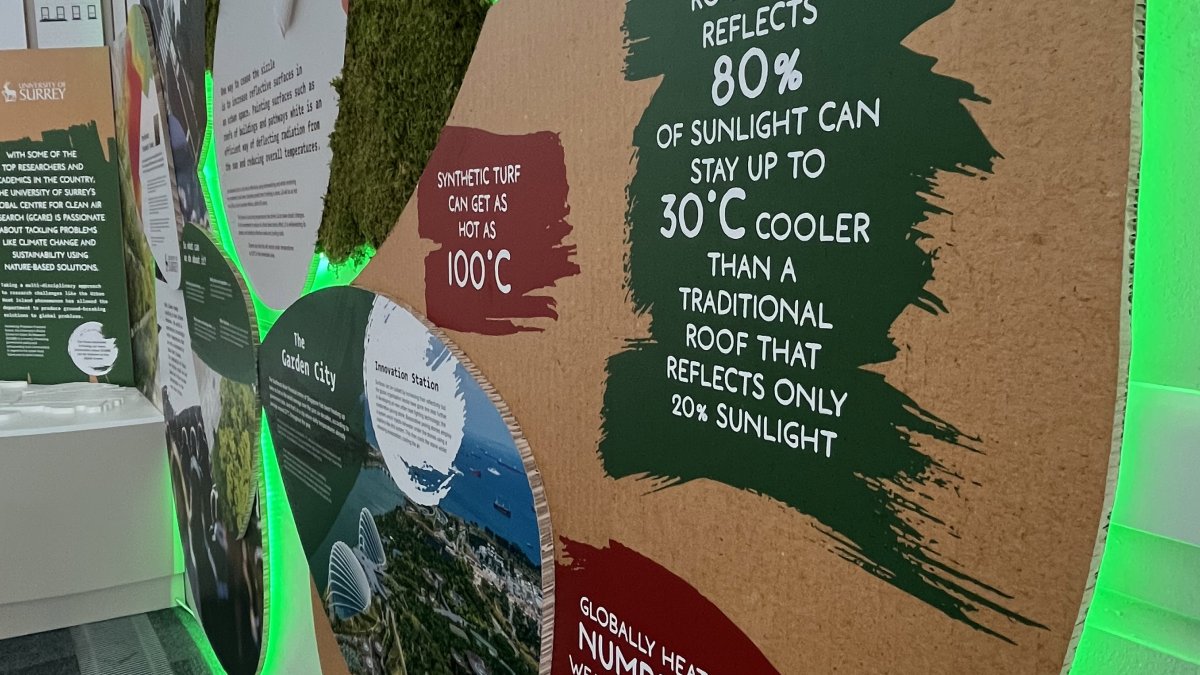 His comments come as the University invites residents to come to campus and experience two, open-access installations which bring to life the University's sustainability-focused research.  
The new exhibits – dubbed the Innovation Exploratorium project – are open to the public on the Stag Hill Campus of the University of Surrey from 23 November.  
The first exhibit looks at "urban heat islands", displaying research from Surrey's world-renowned Global Centre for Clean Air Research's (GCARE) work on the phenomena that shows that a lack of green spaces in urban environments causes buildings to absorb and retain heat. This effect results in an increase in air pollution and heat-related illness. The exhibit encourages visitors to reflect on small lifestyle changes they can make to reduce the effect. The exhibit is located in the ground-floor reception lobby of the Duke of Kent building.  
The second exhibit explores research inspired by the experiences of lockdown. It reveals how significantly a person's mental health can be improved by measures as simple as watching nature videos. These findings are particularly useful to those suffering from ill-health or are otherwise unable to get out as much as they would like. This exhibit is located in an open-access area on the first floor of the University's main library block. 
Professor Bob Nichol, Executive Sustainability Lead, Pro-Vice-Chancellor and Executive Dean of the Faculty of Engineering and Physical Sciences at the University of Surrey, said: 
"Many of our leading global research projects would not be possible without the inquisitive nature and enthusiastic support of the citizens of Guildford. For example, the Global Centre for Clean Air Research's (GCARE) work on the urban heat island effect and other air pollution works are based on data collected by Guildford's citizen scientists.  
"These new exhibits complete the circle, allowing us to give back to the local community by sharing research in an accessible way, and giving practical tips for improving well-being and sustainability." 
The University of Surrey has also published its annual Sustainability Development Goals (SDG) Report, which details specific actions the University has taken to ensure sustainability is at the heart of everything it does locally, nationally and globally.  
Professor Nichol continued: 
"Sustainability is not just a buzzword here at the University of Surrey. We have consistently put actions behind our words, as shown in the report we publish today aligning our local, national and global research and other actions with the United Nations Sustainable Development Goals." 
The report is available to read on the community pages of the University of Surrey's website. 
### 
Notes to editors 
Media Contacts
---
Georgie Gould
Media Officer (Faculty of Arts and Social Sciences)
Phone:
External Communications and PR team
Phone: +44 (0)1483 684380 / 688914 / 684378
Email: mediarelations@surrey.ac.uk
Out of hours: +44 (0)7773 479911