---
press release
Published:
07 October 2019
Kingdom Rapper and University of Surrey lecturer launch new prisoner publishing programme
On Friday 4 October 2019 HMP Nottingham published Unlocked!, the first book to come out of a pilot project headed by Dr Lucy Bell of the University of Surrey and Dr Joey Whitfield of Cardiff University. The Unlocked! project challenges prisoners to write creatively and attempt 'cartonera' book publishing, a technique of rapid, low-cost publishing borrowed from Latin America.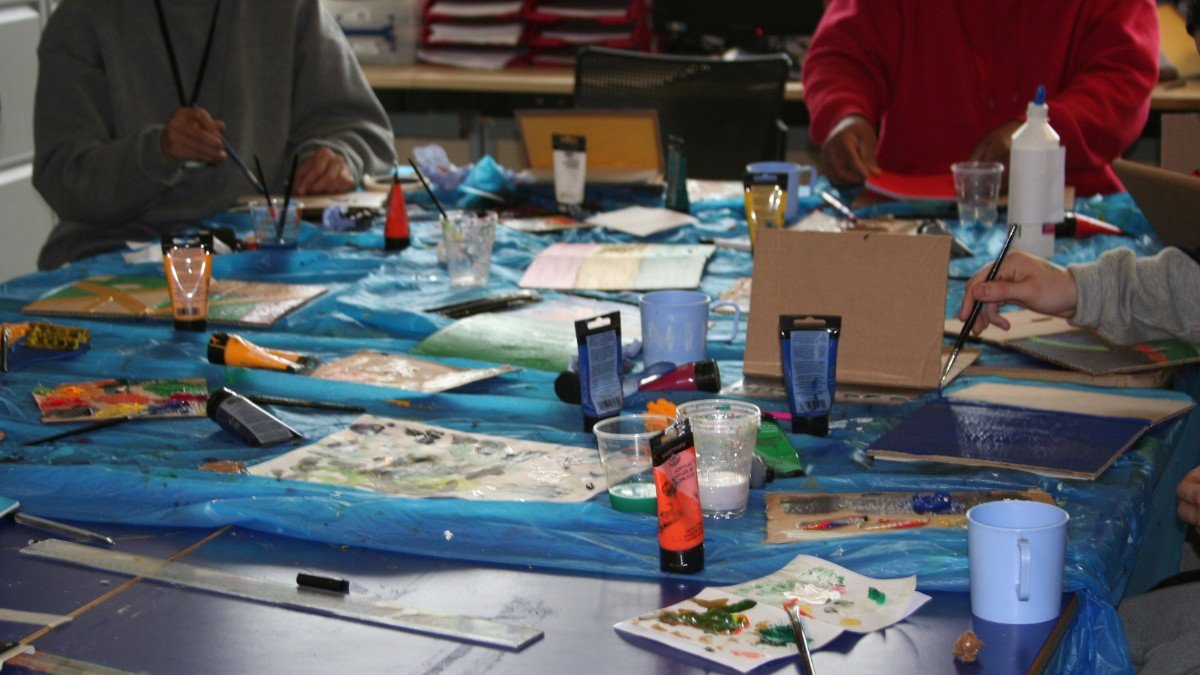 Leaders at HMP Nottingham engaged with Unlocked! believing in its transformative potential. Studies indicate that engagement with the arts can improve culture in prisons and even lower reoffending rates. Project participants reported a variety of benefits from decreased stress and increased self-confidence to finding relief in "letting everything out in writing".
Nottingham artist Benje Howard, aka Kingdom Rapper, was guest speaker at the launch event. After getting involved in gangs in his childhood Benje has turned his life around, building a national reputation for positivity, inclusion and support. As well as supporting the launch of Unlocked! this month he will perform and share his story in HMP Nottingham and local Nottingham schools.
Dr Lucy Bell from the University of Surrey said: "Rather than taking a pre-established programme to the prison, we designed a loose course that one participant later referred to as 'creative writing with a twist of art'. We want to enable participants at many prisons to shape projects around their interests and sentence length."
Kingdom Rapper said: 'For me Unlocked! is a great representation of lives being changed, a great example of growth in the darkness and vulnerability on show to encourage others. It is a real salt of the earth piece of work which compassionately illustrates life behind bars. This work shows how creative writing, poetry and rap can speak into peoples' lives.'
Unlocked! is the latest contribution to the cartonera publishing movement, which originated in Argentina in the wake of the 2001 economic crisis and quickly spread across and beyond Latin America. Dr Bell has spent two years leading an action-based research project with cartonera publishers in Mexico and Brazil. Unlocked! was inspired by Espejo y viento (Wind and Mirrors), the culmination of a three-month collaboration between women incarcerated at Puente Grande Prison and cartonera publishers Viento Cartonero and La Rueda Cartonera in Guadalajara, Mexico.
HMP Nottingham are planning to run the programme on an ongoing basis, while Bell and Whitfield will develop the programme further at other prisons, starting with HMP Downview.
Featured Academics
---
Media Contacts
---
External Communications and PR team
Phone: +44 (0)1483 684380 / 688914 / 684378
Email: mediarelations@surrey.ac.uk
Out of hours: +44 (0)7773 479911