---
news
Published:
17 February 2021
Meet the academic: Dr Emily Setty
Dr Emily Setty, Lecturer in Criminology, works in our Department of Sociology and her primary research interests relate to young people's sexual and relational behaviours and experiences in their youth.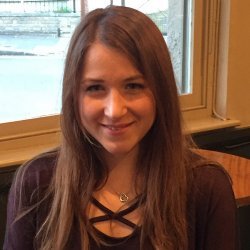 Dr Emily Setty
What inspires you about Surrey?
I love the feel of the campus and the supportive atmosphere between everyone who works here and the students. There is such a range of people here doing really interesting research that they are passionate about. Everyone is willing to share what they do, find out about each other and work together – so there are always interesting and exciting opportunities!
How would you describe your time at Surrey?
I love working at Surrey. Being a lecturer here has enabled me to do so many things, connected both to my own research as well as teaching and supporting students. I have progressed so much with my work from being able to pursue different opportunities and learn new things.
Why should students study sociology at Surrey?
I did both my undergraduate and doctoral degrees here, so I clearly love it! The University has a great feel to it and if you study in the Department of Sociology, you will have the opportunity to learn about a range of topics based on the extensive expertise and passion of the lecturers. You will also learn key skills and all about the pressing social issues of our time, which will become invaluable to you both as you develop personally and for achieving your future goals.
Is there a particular memory at Surrey which stands out for you?
Passing my PhD! I was so nervous for my viva (the oral exam you take at the end of your PhD). I was teaching in the Department at the time and was quite connected with the students and other lecturers. They all supported me and it was so lovely when I passed – I obviously felt great to have passed, but I also got so many positive comments from staff and students. It's lovely here in the Department because we do all feel connected to each other and the relationship goes both ways. You will be able to learn about your lecturers and often, students are inspired from all those informal chats we have in and around lectures, supervision and personal tutoring. It's all yours for the taking and we love it when a student is passionate and wants to engage with us about what they are learning and what they want for the future.
What are your interests and hobbies outside of academia?
I enjoy reading (non-academic books in my spare time!); music (listening to music and going to live events); theatre and film; cooking; travelling; spending time with my family, friends and my dog; walking and cycling; yoga; skiing.
Discover our courses on offer within the Department of Sociology