---
news
Meet the academic: Dr Silvia Pani
Senior Lecturer in Applied Radiation Physics and our Medical Physics MSc Programme Leader, Dr Silvia Pani explains why highly trained medical physicists are the driving force for improving the diagnosis and treatment of illnesses.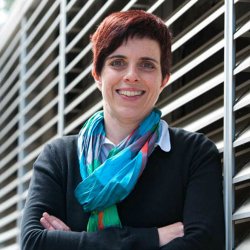 Please could you introduce yourself – perhaps you could tell us something that isn't on your staff profile page?
I ended up here through a series of coincidences which began when I was doing the part of my job I liked the least. As a postdoctoral researcher in Italy, part of my unwritten job description was to support scientists who came to our lab to do experiments, which meant evening and weekend work so wasn't popular! However working with one group led to a collaboration and EU funding for me to spend a couple of years in the UK…and the rest is history.
What's your favourite memory of being a student?
Realising I had a blank page in front of me. I had moved to a different city, met new people, and was studying new topics.
How and why did you become an academic?
I'd always enjoyed research, but had also got a flavour of teaching during my PhD and postdoc, and discovered that I liked it. Academia offered a combination of both research and teaching, and was therefore the perfect career for me.
What excites you most about your current role?
I think it's the opportunity to meet young people and attract them to my subject area – whether they're undergraduates or postgraduate students training to become medical physicists at the higher level. I love the idea of passing on what I've learned.
What is your particular area of academic expertise, and why are you passionate about it?
My work focuses on finding ways of maximising the information we can obtain from X-ray detectors while minimising the risks for patients in terms of radiation dose. My specific field of interest is mammography. One area I'm looking at is calculating the amount of glandular tissue in the breast (known to be an indicator of a woman's risk of developing breast cancer in the future). This information would enable personalised screening which could help optimise the use of resources for healthcare providers.
Why should people study at postgraduate level in your academic area?
Because there's always a need for medical physicists in hospitals, in research and in industry: they are the driving force for developing technologies and techniques that will improve or change diagnosis and treatment of illnesses. Surrey has great links with hospitals in the south east, and our MSc students take part in hospital practicals and are offered a range of dissertation projects, many of which are carried out at collaborating hospitals. Our Masters course is one of the longest-established of its kind in the UK and has trained a third of the UK's practicing medical physicists.
What are you looking for in a postgraduate student?
Curiosity, good experimental skills, and the ability to interpret data.
Is there a particular memory of your time at Surrey (so far) which stands out for you?
I have a fond memory that happened in my first year of teaching when a student stopped me after my class for clarification. I tried to tackle the topic from a different angle and I could really see as I was doing this that he was now understanding it. I felt very proud and it made me realise that I could do this job!