---
press release
Published:
03 November 2021
National facility improving wind farm design and reducing urban carbon emissions
The University of Surrey is undertaking sophisticated research that is helping to improve the design of wind farms thanks to its Environmental Flow Research Centre (EnFlo) - the UK's only atmospheric wind tunnel.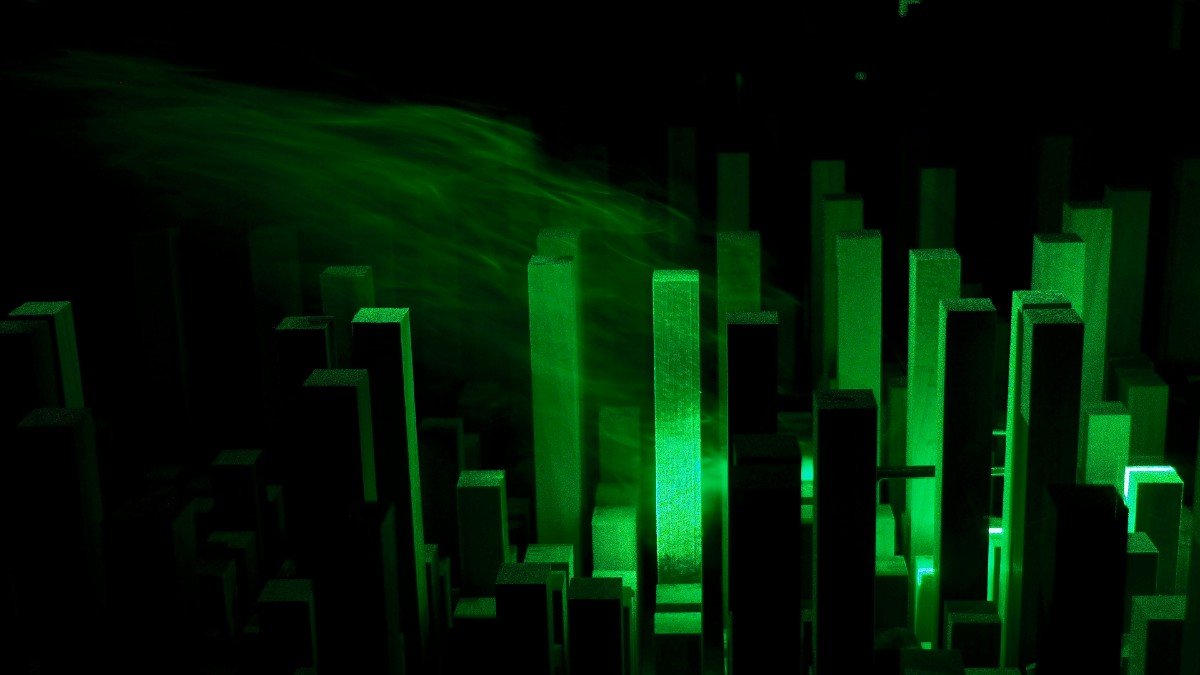 Informing wind turbine design 
Established in 1993, EnFlo is the only facility in the UK capable of producing the temperatures and air movement required to experimentally model how natural conditions impact wind farms. Researchers at Surrey have developed sophisticated monitors and are exploring how natural airflow and temperature changes interact with the turbulent wakes of turbines. Their findings are influencing how wind farms are designed, how turbines are laid out and how turbines are managed once in place, enabling greater efficiency from wind power, a crucial source of renewable energy.  
Tackling the urban heat island effect 
As the planet warms, the enhanced effect in cities poses a risk to inhabitants. But traditional responses like air conditioning rely on systems that consume energy, increase carbon emissions and exacerbate the problem. 
Research at the University of Surrey, in partnership with the University of Cambridge, Imperial College London and others, aims to find better ways of both cooling and heating buildings. 
"We need to couple mechanical systems with natural ones," says Dr David Birch, Head of the Centre for Aerodynamics and Environmental Flow which hosts Enflo. "Warm air naturally rises, and we can use this to help ventilate buildings, making sure we're not sucking in ground-level pollution and distributing it to everyone, of course." 
"The unique capability of the EnFlo facility means we can model, say, what happens on a sunny winter's day where the air temperature stays cold, but the sun warms the city infrastructure. What's the best way to heat a building in these conditions? And how can we use the buoyancy plumes such weather creates?"  
Helping clean the air we breathe 
By modelling how air moves through specific environments like cities, EnFlo's research can inform urban design and help identify how to reduce the spread of pollution. It explores everyday situations and emergencies; its experts advised the Japanese Nuclear Safety Institute after the 2011 nuclear accident at Fukushima. EnFlo's ability to measure air movement is also helping researchers explore how airborne pollutants impact the migratory habits of insects. 
Learn more about the Centre for Aerodynamics and Environmental Flow, where the EnFlo facility is hosted.
Read about two EnFlo projects tackling the urban heat island effect and urban design: MAGIC: Envisioning a world with greener cities and FUTURE: Fluid dynamics of urban-tall building clusters for resilient build environments  
Media Contacts
---
External Communications and PR team
Phone: +44 (0)1483 684380 / 688914 / 684378
Email: mediarelations@surrey.ac.uk
Out of hours: +44 (0)7773 479911