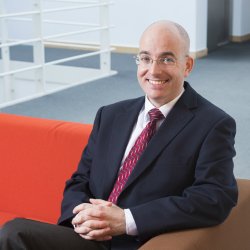 Dr David Birch
---
Senior Lecturer in Aerospace Engineering
Ph.D., CEng.
Biography
Dr. David Birch is a member of the Centre for Aerodynamics & Environmental Flow, Director of Research at Surrey Sensors Ltd. and Programme Leader for aerospace engineering. Dr. Birch has more than fifteen years of experience in experimental aerodynamics research, specializing in the characterization of highly vortical, unsteady turbulent flows and the development of the specialist instrumentation required for this work. Before joining the University of Surrey in 2008, Dr. Birch was an NSERC Reserach Fellow in the Department of Aeronautics at Imperial College.
Areas of specialism

Experimental aerodynamics;

Turbulent vortex flows;

Instrumentation
University roles and responsibilities
Programme Leader, Undergraduate Courses in Aerospace Engineering
My qualifications
1999
BEng in Mechanical Engineering
McGill University
2001
MEng in Mechanical Engineering
McGill University
2005
PhD in Experimental Aerodynamics
McGill University
Affiliations and memberships
News
In the media
Dr. Birch discusses the "Sneezometer"
My publications
Publications
A generalized calibration process is presented for multi-hole, pressure-based velocity probes which is independent of the number of holes and probe geometry, allowing the use of probes with large numbers of holes. The calibration algorithm is demonstrated at low speeds with a conventional seven-hole pressure probe and a novel nineteen-hole pressure probe. Because the calibration algorithm is independent of probe configuration, it is very tolerant of data corruption and imperfections in the probe tip geometry. The advantages of using probes with large numbers of holes is demonstrated in a conventional wing wake survey. The nineteen-hole probe offers a higher angular sensitivity than a conventional seven-hole probe, and can accurately measure velocity components even when an analytical calibration scheme is used. The probe can also provide local estimates of the diagonal components of the cross-flow velocity gradient tensor in highly vortical flows.
Lee T, Birch D, Gerontakos P
(2004)
Vortex shedding and spacing of a rotationally oscillating cylinder,
AIAA JOURNAL
42
(6)
pp. 1268-1272
AMER INST AERONAUT ASTRONAUT
The streamwise velocity component is studied in fully-developed turbulent channel flow for two very rough surfaces and a smooth surface at comparable Reynolds numbers. One rough surface comprises sparse and isotropic grit with a highly non-Gaussian distribution. The other is a uniform mesh consisting of twisted rectangular elements which form a diamond pattern. The mean roughness heights (+/- the standard deviation) are, respectively, about 76 (+/- 42) and 145 (+/- 150) wall units. The flow is shown to be two-dimensional and fully developed up to the fourth-order moment of velocity. The mean velocity profile over the grit surface exhibits self-similarity (in the form of a logarithmic law) within the limited range of 0.04