---
press release
Published:
01 November 2021
University of Surrey is supporting QinetiQ and Boeing to create a new electric aircraft engine
Researchers at the University of Surrey are helping to pave the way for electric-powered air travel with a new miniature electric engine with the thrust of a Spitfire.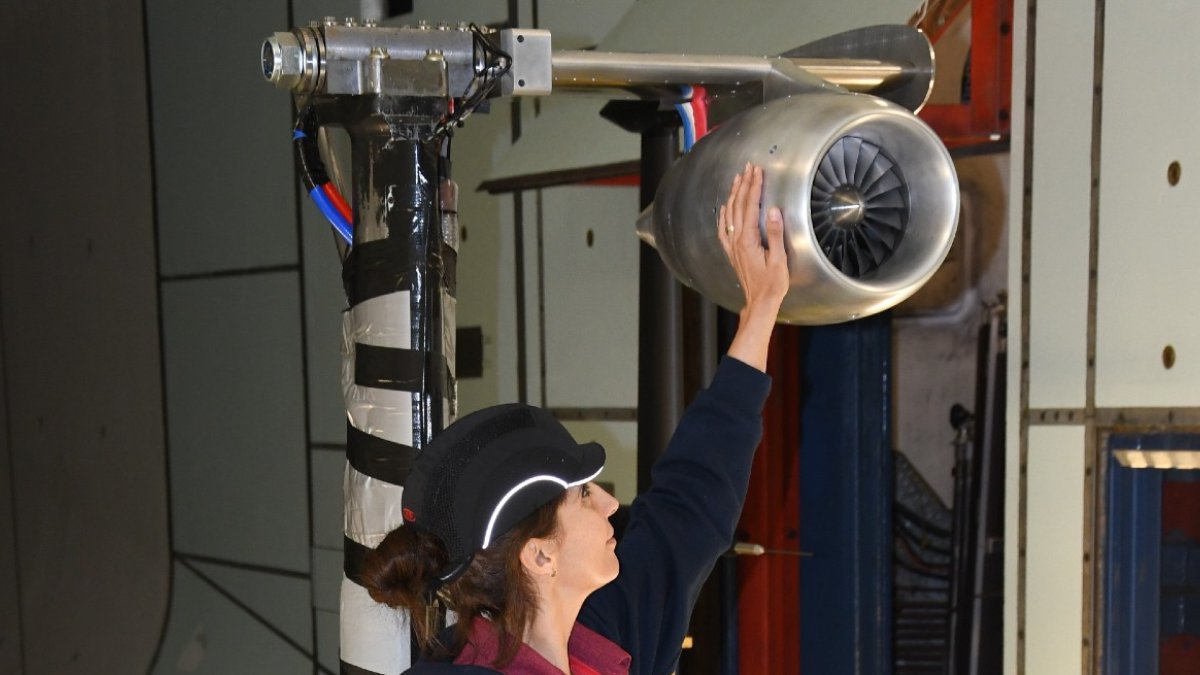 Surrey's Centre for Aerodynamics and Environmental Flow helped create a prototype engine for a new powered wind-tunnel model as part of the EMPAS project. 
The Surrey team, along with Boeing, QinetiQ, Collins Aerospace and Ate AEROTECH, collaborated to research and develop a new design for an electric motor-powered engine suitable for use within the confines of a wind tunnel. The whole set-up needed to be scaled for aircraft models that fit inside the five-metre wind tunnel at UK research organisation QinetiQ, allowing high-quality testing to check the efficiency of future aircraft designs, including powered engine effects. 
"For the tests to simulate reality at a reduced scale, the consortium needed to create an engine the size of a desk fan with as much thrust as a Spitfire," says Dr David Birch, Senior Lecturer in Aerodynamic Engineering and a key member of the Surrey team. "It's not practical or safe to put a gas turbine in a wind tunnel, but that's how much power we needed to generate." 
Fossil-fuelled flight contributes to climate change, yet there is an ongoing need for travel and connection. As a result, identifying a cleaner way to fly is a global priority. Although the University of Surrey team and its collaborators didn't set out to contribute to this specifically, the engine they created could be one of the answers needed. 
"The small electric engine shows the potential of electric motors for directly powering future aircraft, but this will also require advances in on-board power storage," says Dr Birch. "It takes a lot of energy to power an engine like this, so I'm looking to colleagues working on batteries for the next step." 
Find out more about the University of Surrey's Centre for Aerodynamics and Environmental Flow. 
Media Contacts
---
External Communications and PR team
Phone: +44 (0)1483 684380 / 688914 / 684378
Email: mediarelations@surrey.ac.uk
Out of hours: +44 (0)7773 479911