---
case study
Open innovation in animal health research: PetHack 2020
Dr Carla Bonina, Senior Lecturer in Innovation and Entrepreneurship, describes how she held the first-ever open data hackathon, PetHack 2020.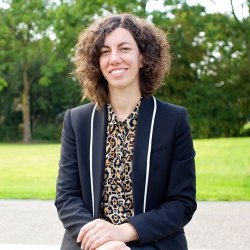 Dr Carla Bonina
Our aim
In July 2020, we held the first-ever open data hackathon in animal health, PetHack 2020 – a joint and interdisciplinary initiative led by Dr Bonina, Surrey's Centre of Digital Economy at Surrey Business School and the Veterinary Health Innovation Engine. This 100 per cent virtual open data hackathon used open collaborative methods to widen participation in research and experimentation.
The aim was to bring together innovators from around the world to work together to find real and innovative solutions to monitor, diagnose and control Covid-19's impact on the animal health community and industry.
The animal health industry relies on data and research to progress. Despite this, the industry value network lacks the infrastructure and incentives needed for data owners and researchers to make their data available.
Our approach and challenges
The open practices we employed draw on Dr Bonina's research investigating how to generate innovative solutions to public problems using open data. The work develops a practical model of tools and rules for organisations to grow and nurture an ecosystem of innovators required to unlock the value of open data for service innovation. These tools include quality data and open innovation events like the hackathon we pursue here.
With a lead time of just four weeks, we had limited capacity to reach out to more partners and more participants and provide more unique open datasets from partners.
An important lesson learnt was to form teams in advance to encourage interaction before the event. We invited participants to join the hackathon and to form their own teams to work remotely. This didn't work as expected, as team members were either working in different time zones or had different aims, resulting in participants working individually instead.
Results
The event was a successful cross-disciplinary collaboration with academic partners from the University of Surrey and University of Exeter, and industry, including Zoetis – the biggest veterinary pharmaceutical company in the world, Open Data Soft, Virtual Recall and Medical Detection Dogs.
The PetHack infographic (PDF) (with thanks to Zoetis for the image) illustrates key outcomes of the event, that included five innovative submissions delivered, more than 50 participants, 11 mentors, three judges and eight partnering institutions working alongside researchers and industry experts.
We were able to work alongside researchers and industry experts from a range of disciplines to prototype solutions to challenging questions. We also compiled a first round of open but widely disperse datasets in animal health, available on open tools for any researcher to access.
PetHack 2020 confirmed the validity of open practices to identify real, scalable solutions for a world problem and ignite an ecosystem of innovators around vet data and open research. We will continue to work and strengthen our invaluable partnerships to launch the first open data repository for animal health in the world.
To find out more about future events, including how to contribute or to join us, subscribe to our updates on PetHack 2021.