Dr Carla Bonina
---
Associate Professor (Reader) in Entrepreneurship and Innovation
PhD in Management, London School of Economics and Political Science
About
Biography
Carla Bonina is Associate Professor (Reader) in Entrepreneurship and Innovation at Surrey Business School. Her research interests lie in the intersection of technology innovation, entrepreneurship and policy with a focus on sustainable development. Her current projects revolve around digital platforms, digital social innovation and AI for international. She provides strategic advice on digital transformation, open data and sustainability of the digital economy to  governments, international organisations and donors, such as Avinas Americas, the OECD, the IDRC and the World Bank among others. She is considered a Latin American expert. 
Her research has been funded by prestigious bodies, including the European Union's Horizon 2020, the Economic and Social Research Council (ESRC) and the Engineering and Physical Sciences Research Council (EPSRC).  
She's been awarded Mid-Career Researcher of the Year at Surrey Business School in 2021, and received the Impact Award prize in 2020 for outstanding contributions to impact in her research on digital government transformation in Latin America.
Carla is founding member of the Surrey Center of Digital Economy and Principal Researcher at the Latin American Initiative of Open data (ILDA). She is Fellow of the Surrey Institute for People Centred AI, member of the Center for Social Innovation Management and the Surrey Law and Technology Hub. She is also member of Sandbox, a global network of young entrepreneurs, and shares a passion for social entrepreneurship.
Carla holds a PhD in Management from the London School of Economics and Political Science (LSE) in the UK, an MSc in Public Administration and Public Policy from CIDE in Mexico City, and a BA in Economics from the University of Buenos Aires.
Areas of specialism
Digital government ;
Open data;
Digital platforms and international development;
Sustainability and digital social innovation;
Latin America
My qualifications
2012
PhD in Management
London School of Economics and Political Science
2004
MA in public policy and public administration
Centro de Investigacion y Docencia Economicas (CIDE), Mexico City
2001
BSc Economics
Universidad de Buenos Aires, Argentina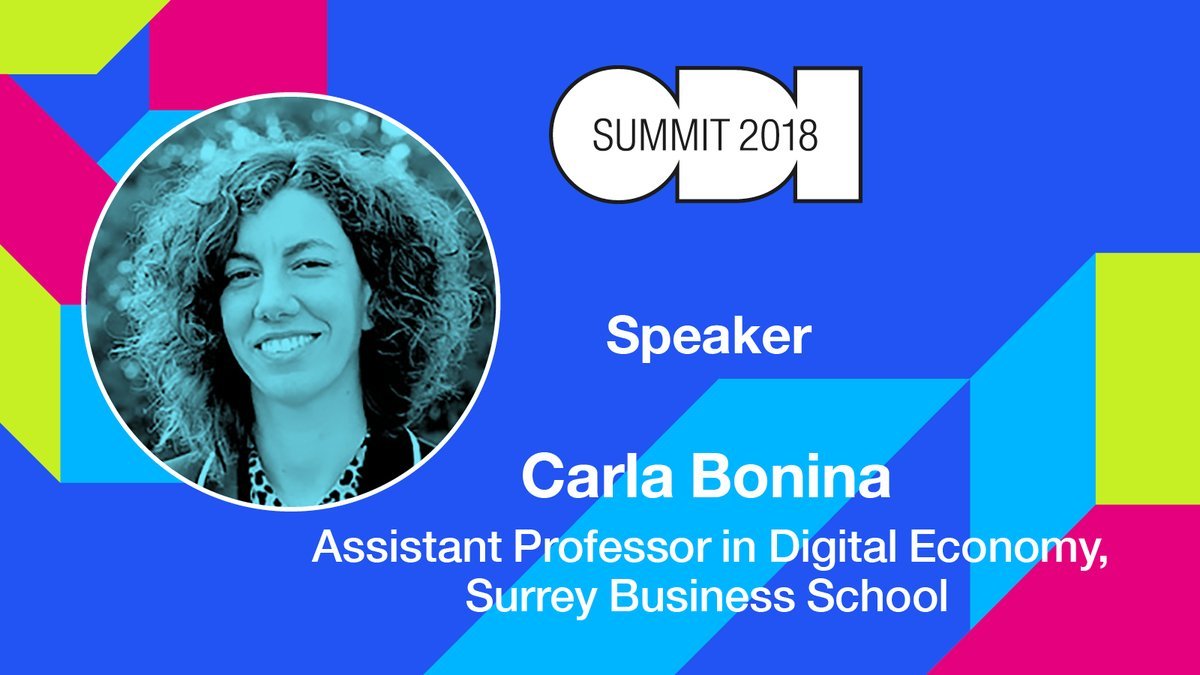 News
In the media
Three critical challenges in open data initiatives
Guest blog
InterAmerican Development Bank - Open Knowledge Blog
Research

Research interests

My research agenda revolves around asking the 'what', 'how' and 'why' questions of digital innovation in private and public enterprises and its effects at societal level—questions that are at center of the Surrey Centre for the Digital Economy (CoDE). I work mainly in the following related streams:

Digital platforms, digital social innovation and international development

In this stream of work I investigate what digital platforms mean for international development, and how to best untap their potential. I build on extant work on the theoretical foundations of digital platforms, and link them to sustainable development and global south contexts. An example of this work appeared in the ISJ article in 2021 that I coauthored with my colleagues Kari Koskinen (Aalto), Ben Eaton (CBS) and Annabelle Gawer (SBS). I am currently working on various applications from the Global South to expand this programme of research. 

Open data to foster social innovation 

This stream of research examines how open government data—data released by government in digital format, publicly available for anyone to use—can contribute to economic and social development in Latin America. It  employs a multi-method approach using several case studies in the region to answer two related questions:

How do open data platforms enable innovation in Latin America?
How can social innovation ventures exploit the benefits of open data in a sustainable and inclusive way?

Key partners to develop this research in the region include the Latin American Open Data Initiative (ILDA), Avina Americas and the InterAmerican Development Bank, and the Government of Argentina, among others. Key publications include the work with my coauthored Ben Eaton (CBS), published on Government Information Quarterly, my work on digital social innovation published on ISJ (2021). 

Politics and Digital Transformation in Government 

This programme of research explores how digital innovation contributes to the enactment of public values in government on one hand, and what role ideologies play in the design and implementation of digital government initiatives. It applies social theory in information systems and publicness theory to study the way governments generate value within their contexts. A good example of my work is the article I co-authored with Prof Avgerou from the LSE on ideologies and digital government (ISJ). Drawing on a longitudinal case in Mexico, we show that rather than being solely about digital technology, politics shape digital government transformation in profound ways. Practically, this implies that winning the political battle and building political support is paramount to sustain a digital government transformation. 

Ethical implications of digital platforms and AI 

Other areas I'm working include reappraising notions of value and ethics in the digital economy. This include discrimination and bias in AI-powered algorithms, emerging business models in digital social innovation, AI-powered justice systems and critical discourse analysis of facial recognition software. I encourage PhD student applications in these areas.

 

Research projects

The State of Open Data is a new project that seeks to review the development of the open data movement over the past 10 years. The project is funded by the International Development Research Centre (IDRC) under the Open Data for Development (OD4D) Programme.

Coleading the Open Data and Private sector chapter.

Development Implications of Digital Economies (DIODE) is a strategic research network funded by the UK's Economic and Social Research Council.  It researches the digital economy and its role in developing countries.

Role: Co-PI, leading group on digital platforms and intermational development.

An EU-funded, three year project, The Audio Commons Initiative aims at bringing Creative Commons audio content to the creative industries. It aims to promote the use of open audio content and at developing technologies with which to support an envisioned ecosystem of content repositories, production tools and users.

Role: Co-PI
Supervision
Postgraduate research supervision
Publications
Highlights
"Digital platforms for development: Foundations and research agenda" awarded highly cited paper in 2021-2022 & 2022-2023. 
Additional publications
Koskinen, Kari, Bonina, Carla, & Eaton, Ben. (2018, October 30). Digital Platforms in the Global South: Foundations and Research Agenda. DIODE Working Paper No. 8, Centre for Development Informatics, Global Development Institute, University of Manchester.http://doi.org/10.5281/zenodo.1566694
Aguerre Carolina, & Bonina, Carla. (2018, Dec). Por Mi Barrio. Lecciones, Hallazgos y Futuro (Por Mi Barrio. Lessons, Findings and Future). Zenodo. http://doi.org/10.5281/zenodo.2531028 
OECD (2017), Assessing the Impact of Digital Government in Colombia: Towards a new methodology, OECD Digital Government Studies, OECD Publishing, OECD Paris, https://doi.org/10.1787/9789264283282-en (written chapters 1 and 2)