Dr Carla Bonina
---
Senior Lecturer in Entrepreneurship and Innovation
PhD in Management, London School of Economics and Political Science
About
Biography
Carla Bonina is Senior Lecturer (Associate Professor) in Entrepreneurship and Innovation at Surrey Business School. Her research interests lie in the intersection of technology innovation, entrepreneurship and policy with a focus on sustainable development. Her current projects revolve around open data and innovation, the developmental value of digital platforms and sustainable business models in the digital economy. She provides strategic advice on digital transformation, open data and sustainability of the digital economy to governments, international organisations and donors, such as Avinas Americas, the OECD, the IDRC and the World Bank among others. She is considered a Latin American expert. 
She's been awarded Mid-Career Researcher of the Year at Surrey Business School in 2021, and received the Impact Award prize in 2020 for outstanding contributions to impact in her research on digital government transformation in Latin America.
Carla is founding member of the Surrey Center of Digital Economy and Principal Researcher at the Latin American Initiative of Open data (ILDA). She is Strategic Advisor to the Veterinary Health Innovation Engine (vHive), member of the Center for Social Innovation Management and the Surrey Law and Technology Hub. She is also member of Sandbox, a global network of young entrepreneurs, and shares a passion for social entrepreneurship.
Prior to joining Surrey Business School, she held a Research Fellowship in LSE Tech, a research team at the London School of Economics and Political Science (LSE) active in the area of innovation and technology management. Carla holds a PhD in Management from the LSE, an MSc in Public Administration and Public Policy from CIDE in Mexico City, and a BA in Economics from the University of Buenos Aires.
Areas of specialism
Digital government ;
Open data;
Digital platforms and international development;
Sustainability and digital social innovation;
Latin America
My qualifications
2012
PhD in Management
London School of Economics and Political Science
2004
MA in public policy and public administration
Centro de Investigacion y Docencia Economicas (CIDE), Mexico City
2001
BSc Economics
Universidad de Buenos Aires, Argentina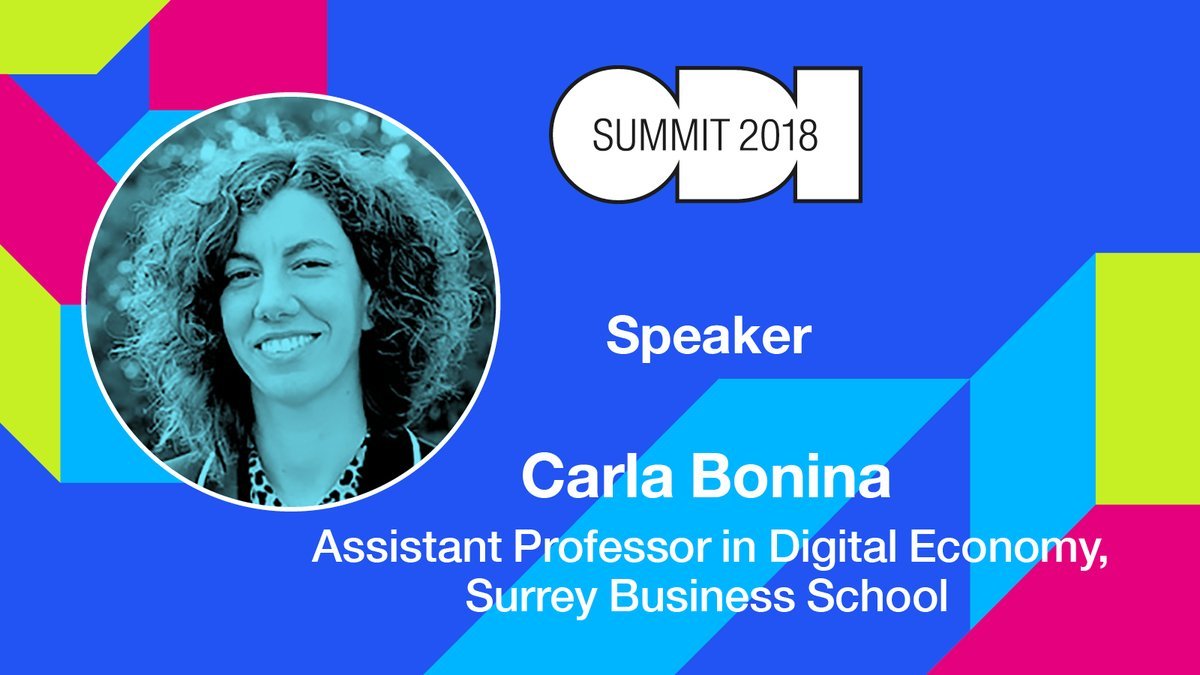 News
In the media
Three critical challenges in open data initiatives
Guest blog
InterAmerican Development Bank - Open Knowledge Blog
Research

Research interests

My research agenda revolves around asking the 'what', 'how' and 'why' questions of digital innovation in private and public enterprises and its effects at societal level—questions that are at center of the Surrey Centre for the Digital Economy (CoDE). I work mainly in the following related streams:

Digital platforms, digital social innovation and international development

In this stream of work I investigate what digital platforms mean for international development, and how to best untap their potential. I build on extant work on the theoretical foundations of digital platforms, and link them to sustainable development and global south contexts. An example of this work appeared in the ISJ article in 2021 that I coauthored with my colleagues Kari Koskinen (Aalto), Ben Eaton (CBS) and Annabelle Gawer (SBS). I am currently working on various applications from the Global South to expand this programme of research. 

Open data to foster social innovation 

This stream of research examines how open government data—data released by government in digital format, publicly available for anyone to use—can contribute to economic and social development in Latin America. It  employs a multi-method approach using several case studies in the region to answer two related questions:

How do open data platforms enable innovation in Latin America?
How can social innovation ventures exploit the benefits of open data in a sustainable and inclusive way?

Key partners to develop this research in the region include the Latin American Open Data Initiative (ILDA), Avina Americas and the InterAmerican Development Bank, and the Government of Argentina, among others. Key publications include the work with my coauthored Ben Eaton (CBS), published on Government Information Quarterly, my work on digital social innovation published on ISJ (2021). 

Politics and Digital Transformation in Government 

This programme of research explores how digital innovation contributes to the enactment of public values in government on one hand, and what role ideologies play in the design and implementation of digital government initiatives. It applies social theory in information systems and publicness theory to study the way governments generate value within their contexts. A good example of my work is the article I co-authored with Prof Avgerou from the LSE on ideologies and digital government (ISJ). Drawing on a longitudinal case in Mexico, we show that rather than being solely about digital technology, politics shape digital government transformation in profound ways. Practically, this implies that winning the political battle and building political support is paramount to sustain a digital government transformation. 

Ethical implications of digital platforms and AI 

Other areas I'm working include reappraising notions of value and ethics in the digital economy. This include discrimination and bias in AI-powered algorithms, emerging business models in digital social innovation, AI-powered justice systems and critical discourse analysis of facial recognition software. I encourage PhD student applications in these areas.

 

Research projects

The State of Open Data is a new project that seeks to review the development of the open data movement over the past 10 years. The project is funded by the International Development Research Centre (IDRC) under the Open Data for Development (OD4D) Programme. Coleading the Open Data and Private sector chapter.

Development Implications of Digital Economies (DIODE) is a strategic research network funded by the UK's Economic and Social Research Council.  It researches the digital economy and its role in developing countries. Role: Co-PI, leading group on digital platforms and intermational development.

An EU-funded, three year project, The Audio Commons Initiative aims at bringing Creative Commons audio content to the creative industries. It aims to promote the use of open audio content and at developing technologies with which to support an envisioned ecosystem of content repositories, production tools and users. Role: Co-PI
Supervision
Postgraduate research supervision
Publications
This paper introduces the concept of modularity in financial services, discusses how new value chains are created and addresses emerging opportunities for innovative business models in the digital economy. We argue that innovation occurred in the banking sector despite the lagging adoption of new operational practices but due to technology drive for new ways to provide services. Banking innovation is commonly a matter of case facilitation vs. lock-in, in which the systemic effects of balancing delay vs. fast progress requires business model choices. In the banking sector, where there is little power stability among stakeholders, asymmetrical periods of dynamism are triggered by the modernization of the systems [13]. The main argument of this paper is that we can use models of modularity and network integration to improve our understanding of sustainable emerging banking practices. This is fundamental when establishing the potential contribution of this sector to digital economy models. © 2014 IEEE.
The strong pattern of inequality that marks Latin America and the Caribbean (LAC) is repeated, although with different characteristics, in access to information and communication technologies (ICTs). Although it is not currently possible to demonstrate empirically, in great detail, that mobile telephony is making a substantive contribution to poverty reduction in LAC, we aim to shed light on certain areas. First, we argue that mobile telephony penetration has been significantly higher than that of other ICTs among the poorest sectors of the population. Second, by constructing Gini indexes of phone access, data show that the distribution of mobile telephony is consistently more equitable than that of landlines in LAC. Third, the high degree of mobile telephone penetration in poor sectors sparks new implications about possible strategies and tools for promoting other ICTs, which have had comparatively less impact so far. We seek then to contribute to the discussion on design -or redesign- of public policies that focus on development through the use of ICTs in the region.
The purpose of this paper is to offer a critical discussion of information system adoption in the public sector (often referred to as e-government) and to contribute to the debate by offering a public value perspective. The paper points to the public value paradigm as an alternative approach to studying ICT-enabled public sector reforms. This paradigm, we argue, proposes an alternative way of framing the nature of the problems faced when ICT enabled public sector reforms are initiated and studied. The public value perspective proposes a new and richer context in which to study and research these phenomena. It also calls for the redefinition of the ways we assess e-government in the context of public sector reforms. It is therefore seen as vital to evaluate the socio-political impact of ICT adoption in the public sector. © 2012.
We develop a perspective of IT innovation in the public sector as a process that involves three complementary areas of ideology and concomitant dispute. First, the widespread view of e-government as a transformative force that leads to major improvements of public sector functions for the benefit of society at large. Second, ideologies concerning the substantive policies enacted by public sector organizations. Third, ideology regarding public sector modernization. Our research examines how the objectives of IT projects and their actual effects in government are influenced by such ideologies and contestations that surround them. We develop our theoretical contribution with a critical discourse analysis that traces the ideological underpinnings of two consecutive IT projects for the administration of international trade in Mexico. This analysis associates the objectives of the IT projects with the emergence and ensuing contestation in Mexican politics of two ideologies: the first ideology concerns free international trade as imperative for economic development; the second ideology concerns public sector modernization which sought to overcome historically formed dysfunctionalities of public administration bureaucracies by adopting management practices from the private sector. The analysis then identifies the effects of the ideologically shaped IT projects on two key values of public administration, efficiency and legality. The insights of this research on the role of ideology in IT innovation complement organizational perspectives of e-government; socio-cognitive perspectives that focus on ideas and meaning, such as technology frames and organizing visions; and perspectives that focus on politics in IT innovation.
Civil society and governments around the world have recognized the potential developmental benefits that data released in open format could bring to the Global South. This open data, released in digital format, publicly available for anyone to use—promise to contribute to global development goals, such as economic growth, job creation, social and economic inclusion, and access to public services such as healthcare. Although emergent, there is growing evidence that in the right circumstances, open data could contribute to these goals (see Verhulst and Young 2016, as well as chapter 10 in this volume). Despite the potential, there is also a body of literature suggesting that most open data initiatives are not having the desired impact, particularly in the Global South, for a variety of reasons. These include poor-quality or incomplete data, data in hard-to-use formats, and a mismatch between the data that are published and the data that are actually needed (World Wide Web Foundation 2017). Thus, it is becoming paramount to understand how to improve the connection between making the data available, sharing it, and fostering the actual uptake of open data to solve developmental problems. Recent evidence has shown that the governance relationship is an important factor in this equation. For example, in a review of twenty-three digital monitoring platforms of public services, Peixoto and Fox (2016) show that the existence of institutional arrangements increases the use and responsiveness of these initiatives. While valuable, these studies show broad patterns of the overall picture. In this chapter, we aim to delve into these patterns in detail.
At the University of Surrey (Guildford, UK), we have brought together research groups in different disciplines, with a shared interest in audio, to work on a range of collaborative research projects. In the Centre for Vision, Speech and Signal Processing (CVSSP) we focus on technologies for machine perception of audio scenes; in the Institute of Sound Recording (IoSR) we focus on research into human perception of audio quality; the Digital World Research Centre (DWRC) focusses on the design of digital technologies; while the Centre for Digital Economy (CoDE) focusses on new business models enabled by digital technology. This interdisciplinary view, across different traditional academic departments and faculties, allows us to undertake projects which would be impossible for a single research group. In this poster we will present an overview of some of these interdisciplinary projects, including projects in spatial audio, sound scene and event analysis, and creative commons audio.
Digital platforms hold a central position in today's world economy and are said to offer a great potential for the economies and societies in the global South. Yet, to date, the scholarly literature on digital platforms has largely concentrated on business while their developmental implications remain understudied. In part, this is because digital platforms are a challenging research object due to their lack of conceptual definition, their spread across different regions and industries, and their intertwined nature with institutions, actors and digital technologies. The purpose of this paper is to contribute to the ongoing debate in information systems and ICT4D research to understand what digital platforms mean for development. To do so, we first define what digital platforms are and differentiate between transaction and innovation platforms, and explain their key characteristics in terms of purpose, research foundations, material properties and business models. We add the socio-technical context digital platforms operate and the linkages to developmental outcomes. We then conduct an extensive review to explore what current areas, developmental goals, tensions and issues emerge in the literature on platforms and development and identify relevant gaps in our knowledge. Based on our findings, we elaborate on six research questions to advance the studies on digital platforms for development as follows: on indigenous innovation, digital platforms and institutions, on exacerbation of inequalities, on alternative forms of value, on the dark side of platforms and on the applicability of the platform typology for development. 2
The information systems literature has studied digital innovation extensively and focused primarily on its commercial related objectives. Yet, digital social innovations seek to solve social problems, while implementing commercially viable approaches. Drawing from the social entrepreneurship literature and using computational social science methods, we identify the peculiar utilitarian (commercial) and collectivistic (social) identity orientations that shape digital social innovation (DSI). We use a sample of 292 DSI initiatives from Latin America and find that DSIs present both utilitarian and collectivist identity orientation. We also find that the collectivistic identity orientation tends to be more salient in less developed contexts. This allows us to discuss implications for the research on digital social innovation and to open up a discussion on the role of context and possible tensions that may emerge in combining both identity orientations.
J. Gurin, C. Bonina, S. Verhulst
(2019)
Open Data Stakeholders - Private Sector
, In: T. Davies, S. Walker, M. Rubinstein, F. Perini (eds.), The State of Open Data: Histories and Horizons
pp. 418-429
African Minds and the International Development Research Centre (IDRC)
Open government data (OGD) initiatives are an emergent platform research topic. There is little under-standing how these platforms are governed for the innovation of services using open data, where the cultivation of an installed base of heterogeneous service innovators can lead to increased usage of OGD. In this paper, we draw on established literature from digital platforms research to investigate how service innovation is cultivated in open government data contexts. We employ a comparative case study of open government data platforms in three leading Latin American cities and draw upon the concept of bound-ary resources taken from platform theory. Our research generates two key contributions. First, we pro-pose a theoretical model, which explains how an OGD platform owner is able to govern the demand and the supply side of its platform to facilitate the cultivation of a platform ecosystem. Second, we develop contributions to practice in terms of a set of recommendations for governments in emerging countries concerning how to establish and manage a vibrant OGD platform ecosystem.
Digital platforms have become integral to many of the everyday activities that people across the globe encounter in areas like transportation, commerce and social interactions. Research on the topic has largely concentrated on the general functioning of these platforms in terms of platform governance, business strategies and consumer behaviour. Despite their significant presence in the global South, the developmental implications of digital platforms remain largely understudied. In part, this is because digital platforms are a challenging research object due to their lack of conceptual definition, their spread across different regions and industries, and their intertwined nature with institutions, actors and digital technologies. The aim of this paper is therefore twofold: to provide a conceptual definition of digital platforms, and to identify research strands in international development contexts. To do so, we draw from digital platforms literature, differentiate between transaction and innovation platforms and expose their main characteristics. We the present four strands in the form of research questions, illustrated with concrete examples, that can assist to pursue relevant studies on digital platforms and international development in the future.
Additional publications
Koskinen, Kari, Bonina, Carla, & Eaton, Ben. (2018, October 30). Digital Platforms in the Global South: Foundations and Research Agenda. DIODE Working Paper No. 8, Centre for Development Informatics, Global Development Institute, University of Manchester.http://doi.org/10.5281/zenodo.1566694
Aguerre Carolina, & Bonina, Carla. (2018, Dec). Por Mi Barrio. Lecciones, Hallazgos y Futuro (Por Mi Barrio. Lessons, Findings and Future). Zenodo. http://doi.org/10.5281/zenodo.2531028 
OECD (2017), Assessing the Impact of Digital Government in Colombia: Towards a new methodology, OECD Digital Government Studies, OECD Publishing, OECD Paris, https://doi.org/10.1787/9789264283282-en (written chapters 1 and 2)