---
news
A primary school driven initiative to influence parental commuting mode for pupil drop-off and collection
Guildford Living Lab's shared vision is to raise awareness of air pollution and climate change and co-create/co-design sustainable solutions.
A legacy of the Improving the Smart Control of Air Pollution in Europe (iSCAPE) project, Guildford Living Lab (GLL) is a platform for co-operation between researchers, local communities and stakeholders. Curated by the University of Surrey's Global Centre for Clean Air Research (GCARE), GLL's shared vision is to raise awareness of air pollution and climate change and co-create/co-design sustainable solutions. GLL has conducted several activities to foster collaboration between the university and local communities.
Most recently, a citizen science activity was initiated on 16 September 2019 between St Thomas of Canterbury Catholic Primary School in Merrow, Guildford, and our GLL, led by Professor Prashant Kumar. Following our developed citizen science approach, the co-designed activity was conducted collaboratively by researchers, community members and the school. The aim was to assess the impact of traffic congestion on children's exposure to PM2.5 (fine particulate matter with an aerodynamic diameter less than 2.5 microns) concentrations during peak hours, to understand the potential for harm and to use the findings to influence child drop-off and collection routines.
We utilised iSCAPE pollution sensors, as well as our extensive background experience in sensor deployment, implementation of green infrastructure and plant species selection, to explore the impact of vehicular emissions on air quality in the school environment. This included a comparison between pollution concentrations at peak hours (morning drop-off and evening collection) and off-peak hours. As part of the study, a volunteer group of children was involved and supervised by the school head teacher to oversee the operation of sensors at selected sampling points.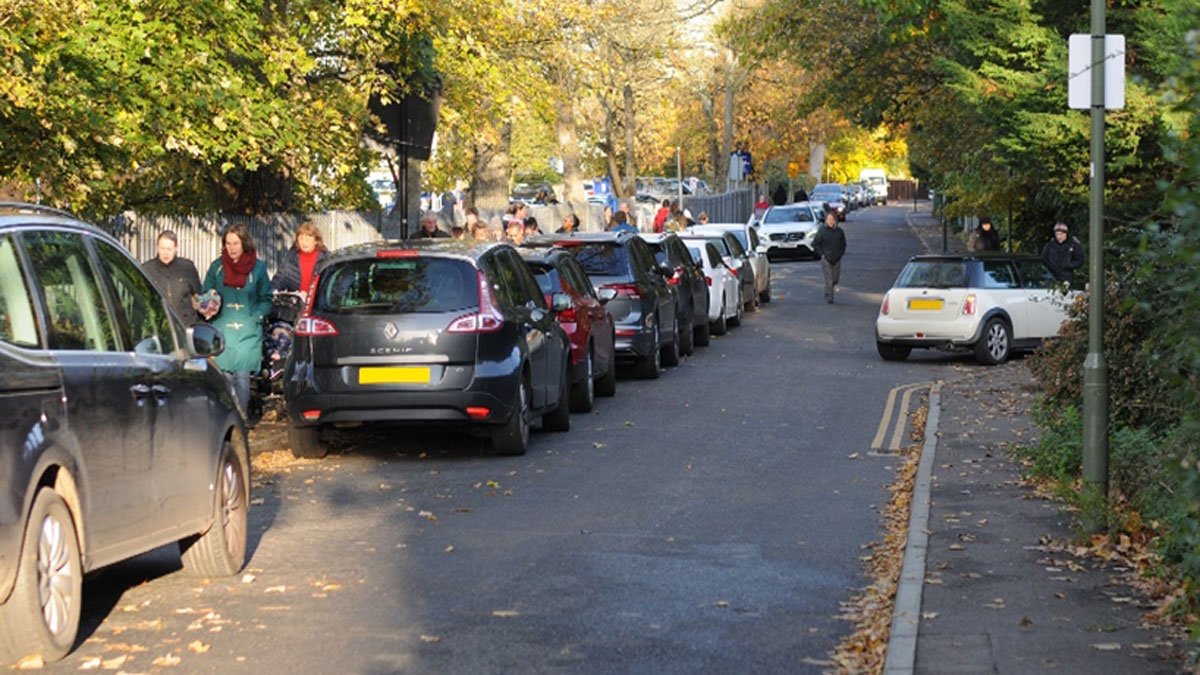 Mapping air pollution in and around the school showed the impacts of bringing cars very close to school premises. Cars queuing during drop-off hours resulted in up to a three-fold increase in concentrations of PM2.5 in the school premises. We also found that minimising the opening of doors and windows of classrooms facing the drop-off point reduced the infiltration of traffic-emitted PM2.5 but increased carbon dioxide build-up in such classrooms. The initiative led to the proposition of some short-term (e.g. anti-idling policies, relocating drop-off/collection points away from school entrances) and long-term (e.g. implementing green barriers between roads and school premises, installing proper air filtration and ventilation systems) solutions. Finally, the study provided several key messages for local councils, policymakers and city planners regarding the construction of future schools in areas away from main roads and with safe walking links.
Following actions identified by this study will improve air quality in and around schools and will generate additional health benefits for parents and children, such as via increased physical activity associated with walking or cycling to/from school. GCARE aims to exploit the findings of this study through workshops with the school and the local community, and thereby enhance public engagement in the near future. Detailed information relating to this study is now available.
Reference
Kumar, P., Omidvarborna, H., Pilla, F., Lewin, N, 2020. A primary school driven initiative to influence commuting style for dropping-off and picking-up of pupils. Science of The Total Environment, https://doi.org/10.1016/j.scitotenv.2020.138360
Acknowledgements
The iSCAPE project was funded by the European Commission's Horizon 2020 programme under grant agreement no. 689954. We also acknowledge the support received from the University of Surrey Living Lab award (2019-20) to support community engagement. Read more about our Guildford Living Lab work.