---
news
Published:
01 November 2017
Professional Training Day hosts leading industrial companies
The Department of Civil and Environmental Engineering's Professional Training Day was a chance for industrial sponsors and students to celebrate the end of a very successful year.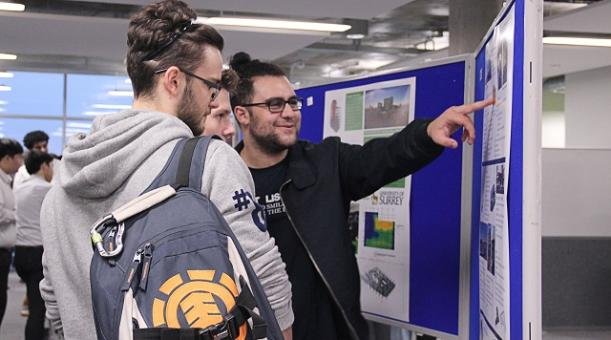 During the day, which took place on campus on 18 October, representatives from 20 civil engineering companies gathered to assess final presentations and posters by the students they had hosted. The event also proved great inspiration for Year 1 and 2 students who are thinking about doing a Professional Training placement in the future, as well as students who are in the process of being matched with companies on the Surrey/ICE Scholarship Scheme.
Each of the 43 returning student gave a 10 minute presentation on their experience, activities and the professional development they had gained during their year, which was followed by an opportunity for questions by their industrial and academic assessors.
After a break for refreshments, the event moved to Surrey's new Innovation for Health building where each student made a poster presentation, enabling guests and fellow students to ask direct questions about the presenters' Professional Training experiences.
Gareth Drought, HR Manager at Tony Gee and Partners, was one of the industrial supervisors attending the event. He said: "It's really good to see the variety of work being done on placement, and how other organisations do things slightly differently.
"Our relationship with University of Surrey benefits our company in lots of ways. The students care about their work and have a real passion for civil engineering which we need all our people to have. We end up with very good people from a very good university who will hopefully graduate with us, continuing to work with us up to their Chartership and beyond."
Surrey's Senior Tutor for Professional Training within the Department of Civil and Environmental Engineering, Colin Howard, commented: "The Professional Training Day is the culmination of the students' hard work through the year on placement – the quality of the presentations and the clear pride that the students display is impressive and testament to the value of their involvement in industry as part of the degree programme."
Over half of students on Surrey's Civil Engineering degree programmes opt to undertake a Professional Training placement, usually between their second and third years. These placements are taken with over 30 leading civil and environmental engineering companies in places as near as Guildford or as far as Hong Kong: recent students have worked on projects at London's Olympic Park, the M25, the new HS2 line, and in Macau. Find out more about Professional Training within the Department of Civil and Environmental Engineering.
Why not explore our Civil and Environmental Engineering programmes, including our BEng/MEng Civil Engineering degree programmes?