---
case study
Rebuilding Surrey: Open research on Covid's impact on Surrey
Professor Amelia Hadfield, Dean International, Head of Department of Politics, Director of the Centre for Britain and Europe (CBE), and her cross-disciplinary team of researchers embraced the principles of open research in conducting research work alongside local stakeholders.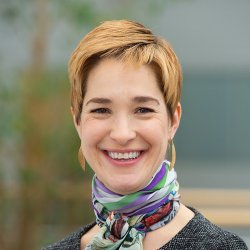 Professor Amelia Hadfield
Our aim
Our research purpose was to produce a report with the aim to define, develop and analyse Surrey's post-Covid recovery and concluding with viable policy recommendations for Surrey County Council, local stakeholders and national government. The research focused on four key clusters of excellence that Surrey performs comparatively well in, these included Knowledge, Aviation, Health and Business and Employment. Apart from our primary aim of producing a detailed and analytical report, we have promoted academic openness within non-academic platforms including local government, healthcare networks and the business ecosystem.
Our approach and challenges
We took an open approach to this project, hoping to increase accessibility and transparency. This included accessing raw publicly available data predominantly from the Office for National Statistics and PwC. Alongside accessing this raw data, to complement the baseline and our cluster analysis we commissioned our own survey to produce data to use to supplement our intelligence from cluster-specific interviews.
One approach we took was to promote the collaboration and sharing of data and intelligence between local stakeholders, exploring new and established relationship networks. For example, we promoted openness and transparency alongside Local Enterprise Partnerships who were generous in sharing their data with us to validate our own research and add a different dimension to our research. This sort of open collaboration increases the impact of research and has opened up an opportunity for further engagement on future research projects.
Working within a sensitive environment such as local government, that requires accessible and transparent research which at first was a challenge, especially when it came to information-sharing and the openness of our work. However, we overcame this by grounding our research on the data-gathering from trusted and transparent sources as well as collecting data including interviews within ethical guidelines. It is important that the report is publicly available for wider consumption and is accessible for both local stakeholders and general citizens, free from publication bias and approached with only the core objectives mentioned in mind.
The outcome
The report was formally launched in November 2020 with an event with over 150 attendees virtually, where we communicated with a diverse audience of stakeholders and local citizens the importance of open and accessible research that contributed to the making of the report.
The case study of this research has been used by Surrey County Council as an exemplar case study of local strategy research that has the potential to deliver on communal needs and economic development within Surrey.
The success of this first research case study has allowed us to continue to work with local government and other stakeholders in producing future research with the foundation of continuing open research practices. We have been invited to contribute to the current work of Surrey County Council on place-based growth which has been grounded in the open practices adopted in the first report.