---
press release
Published:
13 November 2018
Surrey academic receives award for preserving endangered languages
Dr Mike Franjieh, Research Associate at the University of Surrey's School of Literature and Languages, has worked for 10 years to preserve two closely related languages spoken on the island of Ambrym in Vanuatu in the South Pacific Ocean – North Ambrym and Fanbyak. The project, entitled The Northern Ambrym Collection, was funded by the Endangered Language Documentation Project and The Christensen Fund and the collection is located in the Endangered Language Archive.
Vanuatu is the most linguistically diverse country in the world with around 130 languages, but only around 250,000 people. As part of his research Dr Franjieh spent time in the villages where the languages were spoken, collecting different types of speech such as traditional stories, songs, multi-modal art forms and cultural rituals. He also worked with a range of language consultants and collaborated extensively with kindergarten and primary school teachers in the North Ambrym area. North Ambrym was found to have a healthier speaker population of around 4,000, whereas Fanbyak had just over 100 speakers.
This research has a considerable impact on language users, creating usable spelling systems that will enable younger generations of speakers to learn to read and write in their own language, and this will increase educational attainment rates in the area. Recording and documenting the rich cultural practices and biodiversity of the area enables future generations to preserve and utilise this knowledge. A wider audience can also use the archive resources to learn about the cultural and linguistic practices of a region unknown to them.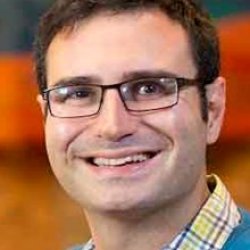 Dr Mike Franjieh
Dr Franjieh said: "It is a great honour to be awarded the Boas DELAMAN prize; it is recognition of almost a decade's work in recording and analysing linguistic data from Vanuatu. Enabling communities to continue speaking their own native language can strengthen learning opportunities and cultural awareness."
Dr Franjieh's latest project with the Surrey Morphology Group will build on his previous research comparing different classifier systems in Vanuatu and New Caledonia. The project hopes to find out how humans categorise the world around them and how languages change over time.
The DELAMAN Franz Boas Award recognises scholars who have conducted outstanding documentary work in creating a rich multimedia collection for a particular language that is endangered or no longer spoken. The Northern Ambrym Collection was an exceptional example of reusable, repurposable, language documentation, placing language in context and representing endangered cultural practices.
Read more about Dr Franjieh's award on the DELAMAN website.
Featured Academics
---
Media Contacts
---
External Communications and PR team
Phone: +44 (0)1483 684380 / 688914 / 684378
Email: mediarelations@surrey.ac.uk
Out of hours: +44 (0)7773 479911
Related articles