---
press release
Published:
20 January 2023
Surrey AI experts scoop prestigious "Test of Time" award for pioneering work that shaped today's performance capture technology
Artificial intelligence experts at the University of Surrey have been recognised for their pivotal motion capture research, which helped to transform how creative industries capture human performances for products such as video games and films.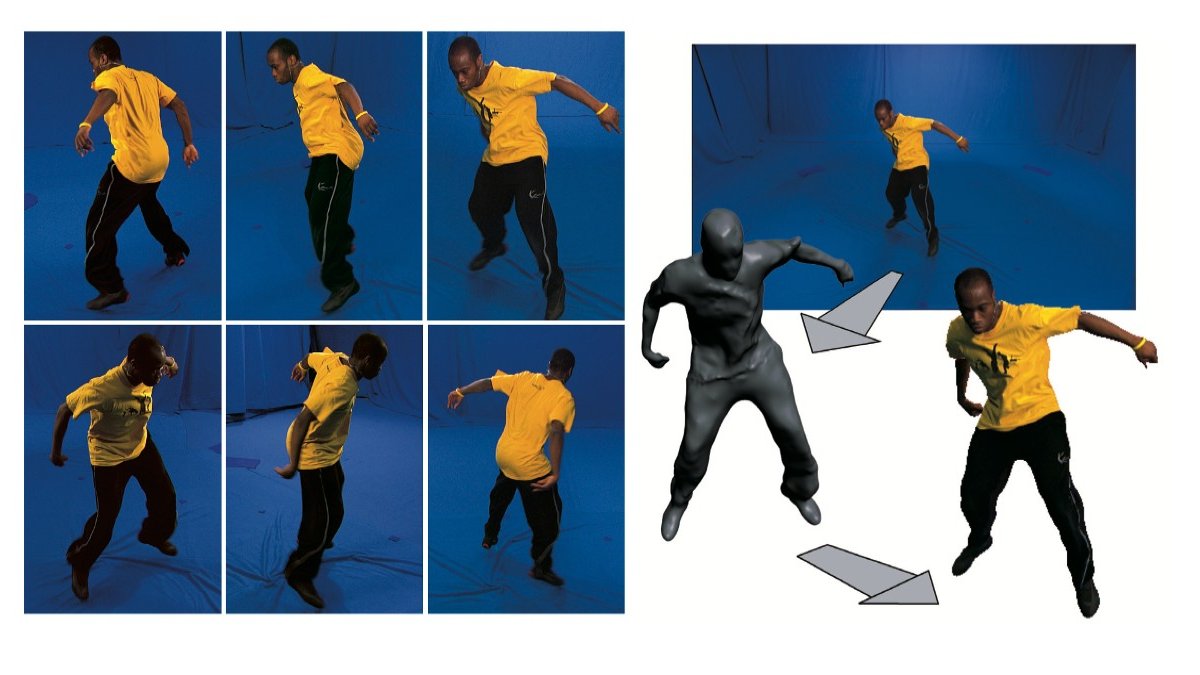 A seminal paper that pioneered the use of volumetric* capture of actors' performances has been awarded the Test of Time Award by the IEEE Computer Society – one of the world's most prestigious organisations dedicated to computer science and technology. 
Professor Adrian Hilton, co-author of the paper and now Director of the Institute for People-Centred Artificial Intelligence at the University of Surrey, said: 
"Back then, motion captured required specialist suits and markers for a result that only records the skeleton motions – not an actor's holistic performance.  
"We proposed a fully automated system that used multiple video cameras to capture an actor's true performance from different angles while they were in full wardrobe. Our system enabled creation of highly realistic models of people and greatly reduced the production time in the process." 
The seminal work was the first to demonstrate photo-realistic recording and reproduction of actor performance in full clothing, providing a breakthrough for production in film, games, TV and VR. This research provided the foundation for volumetric capture used in films such as Jeff Wayne's War of the Worlds and Madonna's performance at the 2019 Billboard Music Awards.  Volumetric performance capture is also used in sports for virtual camera action replays for the Superbowl, Olympics and Masters Golf Tournament.   
Today, volumetric capture is used to populate the metaverse, breaking the barrier between real and virtual worlds. 
The Test of Time Award recognises papers published by the IEEE that have made profound and long-lasting impacts in bridging the theory and practice of computer graphics. 
Jonathan Starck, co-author of the paper and now Chief Technology Officer of Synthesia, an AI video generation platform, said: 
"Creating photorealistic digital humans has always been one of the grand challenges at the intersection of computer vision and computer graphics. The University of Surrey has led the way in this field by pioneering research on creating controllable, photorealistic representations, and their research work has been swiftly applied in industry and so contributed to the economic success story of the UK's creative services sector.  
"The work on 'Surface Capture for Performance-Based Animation' remains just as relevant today as it was 16 years ago. As technology in this space continues to evolve, we will see a complete change in the way content is created. We are excited to help build this future at Synthesia and continue to partner with world-leading research at Surrey." 
Read the full paper here. 
###   
 
Notes to editors 
 
*Volumetric video capture technology is a technique that digitises a three-dimensional space in real-time using an array of cameras set around a target.  

Professor Adrian Hilton is available for interview on request. 

For more information contact the University of Surrey's press office via mediarelations@surrey.ac.uk 
Media Contacts
---
External Communications and PR team
Phone: +44 (0)1483 684380 / 688914 / 684378
Email: mediarelations@surrey.ac.uk
Out of hours: +44 (0)7773 479911